Punk icon Poly Styrene dies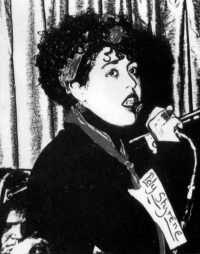 posted 2011-04-26 06:11:30 by tboz





Punk singer Poly Styrene, former singer with the band X Ray Spex, has died. She had been suffering from cancer.
She was one of the first female punk icons, with an influential style that was unorthodox but infectious.
Real name Marion Elliot-Said, she had cancer of the spine and breast.
A statement on her official Twitter feed said: "We can confirm that the beautiful Poly Styrene, who has been a true fighter, won her battle on Monday evening to go to higher places."
Poly Styrene formed her band after watching the Sex Pistols perform on Hastings Pier on her 18th birthday and became known for her unpolished vocals and energetic rallying cries against consumerism and environmental destruction.
X Ray Spex's signature tune was Oh Bondage Up Yours!, a riotous rejection of social and gender norms that began with Poly Styrene's spoken line: "Some people think little girls should be seen and not heard."
The band released just one album, Germ Free Adolescents, in 1978, before splitting up.
The singer went on to record a more subtle and subdued solo album, Translucence, in 1980, before retreating from the music industry to join the Hare Krishnas.
She moved into a Krishna temple in Hertfordshire with her daughter, and struggled with bipolar disorder.
Boy George - who once tried to break her out of the temple - was among those paying tribute on Twitter.
He wrote: "I was a fan of Poly before I got to know her, she was a Krishna follower too, oh bless you Polly you will be missed! Legend!"
She occasionally re-emerged into the limelight, and released her third solo album, Generation Indigo, last month.
"I know I'll probably be remembered for Oh Bondage Up Yours!" she told BBC 6 Music. "I'd like to remembered for something a bit more spiritual."