Former Maryland governor, Baltimore mayor dies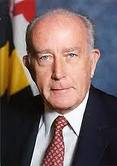 posted 2011-04-19 18:30:13 by jeffjones





ANNAPOLIS, Md. (AP) — For decades, former Maryland Gov. William Donald Schaefer guided massive public works and economic development projects which rejuvenated his beloved hometown of Baltimore, wielding a personality that was occasionally combative and always vivacious and determined.
Even while he was pushing the construction of two new major league stadiums in downtown Baltimore and the development which transformed a barren waterfront into a tourist destination, Schaefer was still accessible by the people he governed as four-term mayor and two-term governor. "So he showed up at all these routine groundbreakings and he would wear the silly hat, he would make the funny face, he would stick his tongue out at the reporters," said Schaefer's former press secretary, Bob Douglas. "He was elevating the routine into the special." Schaefer died Monday at his home at the Charlestown retirement community outside Baltimore, said former aide Lainy LeBow-Sachs. She said she was holding his hand at the end. He was 89. Schaefer had been hospitalized for five days with pneumonia earlier this month. At his first Cabinet meeting as governor in 1987, Douglas recalled Schaefer scrawling his edict in black marker on a board: "Help People." Asked in a 1993 interview how he wanted to be remembered, Schaefer replied: "Simple words, 'He cared.' That's all. I cared. Each person was individually important to me." He approached every task with intensity. His philosophy was summed up by his two favorite phrases: "Do it now" and "Time is not on our side." Gov. Martin O'Malley ordered Monday that flags be flown at half-staff. 'Malley said Schaefer "demonstrated an unrelenting drive to make Maryland a better place. "William Donald Schaefer loved his city and his state with great exuberance because there was nothing more important to him than the people that he served with such loyalty." Schaefer was mayor from 1971 to 1986 and battled to fill potholes as mayor and never missed an opportunity to tout his hometown, even jumping in a seal pool while wearing a turn-of-the century bathing suit and holding a rubber ducky to promote a new aquarium. The Democrat was a Maryland political icon who held statewide office into his 80s. But his brashness and unpredictability made for a tumultuous two terms as governor, starting in 1987. Fellow politicians and citizens who did not agree with him felt his wrath. Schaefer disliked being called a "bricks-and-mortar" politician. But he built his reputation as a man who got things done with projects such as Baltimore's Inner Harbor and a new stadium for the Orioles baseball team. The biggest gift Schaefer gave the city was his spirit, Baltimore Mayor Stephanie Rawlings-Blake said Monday night as she stood near a statue of Schaefer at the Inner Harbor. "He gave Baltimore city a spirit of possibilities, a spirit that we had a promising future," she said. "If you looked around at the Baltimore that he saw, there were a lot of reasons to be skeptical about the future of Baltimore. He used all of his strength, his political acumen, his personality, his drive to grow our city." Schaefer's success as mayor helped him to a landslide victory in the 1986 gubernatorial race, when he got 82 percent of the vote. But the unconventional leadership style and prickly personality that made him a popular mayor did not work well at the state level. When citizens criticized him in letters to newspapers or calls to radio shows, Schaefer called them on the phone or wrote them nasty letters.
He infuriated Eastern Shore residents by making an offhand joke likening their farming region to an outhouse. He was impatient and demanding, often feuding with fellow elected officials who did not do what he wanted fast enough. "He's quite autocratic. Everything has to be done his way," said former Sen. Julian Lapides, a Baltimore Democrat. During an uneasy four-year hiatus from public life, the retired governor missed the spotlight and a forgiving electorate welcomed him back in 1998 as state comptroller. It did not take long for the old Schaefer to emerge. He quickly renewed a feud with then-Gov. Parris Glendening, criticizing him as they sat side by side at Board of Public Works meetings. While Schaefer's loose tongue enlivened meetings, it also got him in trouble. He made headlines in 2006 after telling a 24-year-old female aide to walk past him again in a public meeting to ogle her backside. He also made news that year for criticizing the expense of educating illegal immigrants. Schaefer ended up losing the Democratic primary in his re-election bid months later, coming in third in a three-way race. His declining health in recent years meant few public appearances. On his 88th birthday, he attended a dedication of a statue in his honor at Baltimore's Inner Harbor. A Baltimore resident through and through, Schaefer was born in the city Nov. 2, 1921. He was educated in the city's public schools and attended the University of Baltimore, getting a bachelor's degree in 1942. Schaefer started out on a legal career that was put on hold when he joined the Army during World War II and administered hospitals in England. After the war, he resumed his legal career in real estate law. He earned a law degree in 1954 from the University of Baltimore School of Law and had a practice with two colleagues. He won his first election in 1955 as a Baltimore City Council member. He became council president in 1967. Despite his prominence, Schaefer remained a man of simple tastes. He lived most of his life in the small city row house where he grew up before moving to a modest house in Anne Arundel County between Baltimore and Annapolis.Schaefer never married, and seemed to be wedded to his work. But he maintained a relationship for many years with Hilda Mae Snoops, who was his frequent companion and hostess at the governor's mansion. She died in 1999. "I've always gotten the feeling that he never got much out of life personally," Lapides said. "He was totally devoted to public service, and with the passage of time, there are going to be more pluses than minuses on his record."Schaefer was tolie in repose Monday at the State House and April 26 at Baltimore's City Hall. His funeral will be on April 27 at the Old St. Paul's Church in Baltimore, and he will be buried later that afternoon at Dulaney Valley Memorial Gardens, said Douglas, his former press secretary.
Copyright 2011 The Associated Press. All rights reserved. This material may not be published, broadcast, rewritten or redistributed.