Geraldine Ferraro, A Political Trailblazer For Women, Is Dead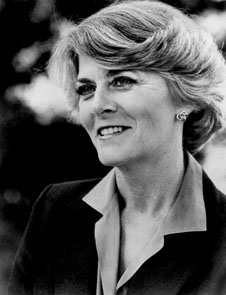 posted 2011-03-26 14:54:48 by DaveM





Geraldine Ferraro, who in 1984 became the first woman named to a major-party presidential ticket, has died.
The former three-term House member from Queens, New York, was 75 years old. She had long been suffering from multiple myeloma, a type of blood cancer. A statement from her family said she died at Massachusetts General Hospital. More from the statement:
"Geraldine Anne Ferraro Zaccaro was widely known as a leader, a fighter for justice, and a tireless advocate for those without a voice. To us, she was a wife, mother, grandmother and aunt, a woman devoted to and deeply loved by her family. Her courage and generosity of spirit throughout her life waging battles big and small, public and personal, will never be forgotten and will be sorely missed."
Ferraro was an assistant district attorney in the borough of Queens when she decided to run for an open congressional seat in 1978. She had far less experience than the other Democrats who sought the seat, but her Italian background and her familiar name — her cousin, Nicholas Ferraro, was the Queens D.A. — boosted her in both the primary and the general election. A strong advocate of abortion rights, she became an influential member of the House early in her career; in 1981, she joined her party's leadership as secretary of the Democratic Caucus.
In the spring of 1984, she attained national prominence as chair of the Democratic Party platform committee. On July 12, Democratic presidential candidate Walter Mondale made history by naming Ferraro as his running mate, the first woman ever to be named to a major-party national ticket.
Some were dubious about the move, attributing it to Mondale's desire to "pander to pressure groups." Others were ecstatic. It's a "dream come true," effused Stephanie Solien of the Women's Campaign Fund. Gloria Steinem, a leading feminist, dismissed the doubters: "Half the human race is not a special interest." Ferraro, who liked to describe herself as a "Queens housewife," understood the importance:
"American history is about doors being opened, doors of opportunity for everyone no matter who you are, as long as you're willing to earn it."
The mood at the party convention four days later was electric from the start. To this day, I remember the tears of joy in the eyes of women everywhere in the hall at San Francisco's Moscone Center. But the euphoria did not last long; questions about the financial transactions of her husband, real estate attorney John Zaccaro, dominated the news for weeks. In the end, the Mondale-Ferraro ticket lost 49 out of 50 states to the Republican ticket of President Ronald Reagan and Vice President George Bush.
Ultimately, having Ferraro on the ticket made little difference in the 1984 results. But it was clear that something dramatic had changed that day in St. Paul when Mondale made his historic selection.
Ferraro never attained high office again. In 1992 and again in 1998, she lost Democratic primaries in her bid to face GOP Sen. Al D'Amato. She appeared in a much-ridiculed commercial for Diet Pepsi.
In March 2008, she resigned from the Hillary Clinton presidential campaign, where she was part of the finance effort, when she in effect said that Barack Obama was doing very well in the primaries because he was black:
"If Obama was a white man, he would not be in this position. And if he was a woman, he would not be in this position. He happens to be very lucky to be who he is. And the country is caught up in the concept."
Ferraro accused her critics of a double standard on race:
"Any time anybody does anything that in any way pulls this [Obama] campaign down and says let's address reality and the problems we're facing in this world, you're accused of being racist, so you have to shut up," she told the Daily Breeze of Torrance, Calif. "Racism works in two different directions. I really think they're attacking me because I'm white. How's that?"