Hefty Heart Attack Grill Spokesman Dies at 29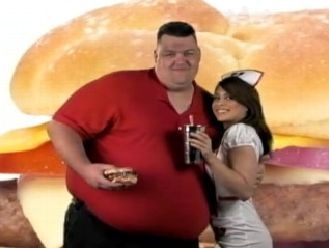 posted 2011-03-04 15:38:33 by grendel





River, who stood 6-foot-8 and weighed about 575 pounds, gained a measure of fame in the past year as spokesman for the Heart Attack Grill, a west Chandler restaurant that specializes in thick hamburgers and fries. He died on Tuesday at the age of 29.
The cause of death is currently unknown, but friends are speculating that it was the result of his contracting pneumonia after a bout with the flu.
Heart Attack Grill is an unabashedly unhealthy restaurant - the menu consists of huge burgers, milkshakes and fries cooked in lard - and having such a big man as a spokesman was part of its tongue in cheek "glorification of obesity." But those who knew River said he was more than the larger-than-life caricature he portrayed in promoting the restaurant.
Restaurant founder Jon Basso said he got to know River, first as a customer at the restaurant before working with him after he became the grill's spokesman.
"Cynical people might think this (River's death) is funny," Basso said. "But people who knew him are crying their eyes out. There is a lot of mourning going on around here. You couldn't have found a better person."
River was a state heavyweight wrestling champion in 1999 as a senior at Payson High School and he went on to play football at Mesa Community College.
He lived in Mesa and worked as a financial adviser at the University of Phoenix.
"He was a nice guy, very energetic and full of life," said Alex Arreola, a waitress at the grill. "He was always talking about his daughter and he always seemed to know the right thing to say to people."
Basso said River was the "creative genius" behind the promotions and was always coming up with new ideas for spots for the restaurant. They were even planning to shoot a spot called, "Heart Attack Grill: The Musical."
"Even if he was skinny we would have given him the job," Basso said. "We would have just put a fat suit on him. He just had personality."
Basso said they had to stop showing some of the ads featuring River on the video screens in the restaurant because they made some of the staff too emotional.
"We're like a family here and he was part of our family," Arreola said. "He will be missed. He'll definitely be missed."