Rodney Dangerfield dead at 82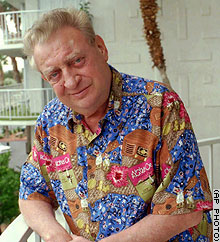 posted 2004-10-05 23:42:24 by stevemay





LOS ANGELES, California (AP) -- Rodney Dangerfield, the bug-eyed comic whose self-deprecating one-liners brought him stardom in clubs, television and movies and made his lament "I don't get no respect" a catchphrase, died Tuesday. He was 82.
Dangerfield, who fell into a coma after undergoing heart surgery, died at 1:20 p.m., said publicist Kevin Sasaki. Dangerfield had a heart valve replaced August 25 at the University of California, Los Angeles, Medical Center.
Sasaki said in a statement that Dangerfield suffered a small stroke after the operation and developed infectious and abdominal complications. But in the past week he had emerged from the coma, the publicist said.
"When Rodney emerged, he kissed me, squeezed my hand and smiled for his doctors," Dangerfield's wife, Joan, said in the statement. The comic is also survived by two children from a previous marriage.
As a comic, Dangerfield -- clad in a black suit, red tie and white shirt with collar that seemed too tight -- convulsed audiences with lines such as: "When I was born, I was so ugly that the doctor slapped my mother"; "When I started in show business, I played one club that was so far out my act was reviewed in Field and Stream"; and "Every time I get in an elevator, the operator says the same thing to me: `Basement?"'
In a 1986 interview, he explained the origin of his "respect" trademark:
"I had this joke: 'I played hide and seek; they wouldn't even look for me.' To make it work better, you look for something to put in front of it: I was so poor, I was so dumb, so this, so that. I thought, 'Now what fits that joke?' Well, 'No one liked me' was all right. But then I thought, a more profound thing would be, 'I get no respect."'
He tried it at a New York club, and the joke drew a bigger response than ever. He kept the phrase in the act, and it seemed to establish a bond with his audience. After hearing him perform years later, Jack Benny remarked: "Me, I get laughs because I'm cheap and 39. Your image goes into the soul of everyone."
Dangerfield had a strange career in show business. At 19 he started as a standup comedian. He made only a fair living, traveling a great deal and appearing in rundown joints. Married at 27, he decided he couldn't support a family on his meager earnings.
He returned to comedy at 42 and began to attract notice. He appeared on the Ed Sullivan show seven times and on "The Tonight Show" with Johnny Carson more than 70 times.
After his standout film role in "Caddyshack," he began starring in his own movies.