Doug Hoerth / Off-the-cuff 'Uncle Dougie' had 3-decade radio run in Pittsburgh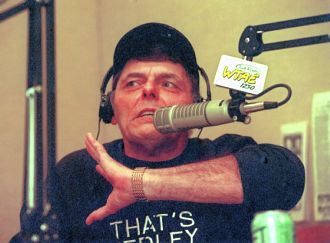 posted 2011-01-27 09:10:36 by grendel





Doug Hoerth, a Pittsburgh radio talk show fixture for nearly three decades whose on-air "Uncle Dougie" persona regaled listeners with discussions, dissections and debates of pop culture, current events, the arcane, and the good, bad and ugly of his personal life, was found dead in his Bellevue apartment Tuesday evening. He was 66
His body was discovered by Bellevue police, who were dispatched to check on his well being because Mr. Hoerth's former co-worker Phil Lenz couldn't reach him for about a week, although the two close friends usually talked every other day. The Allegheny County Medical Examiner's office ruled Wednesday that Mr. Hoerth died of natural causes.
Mr. Lenz and others who knew Mr. Hoerth said he had become unmoored, lonely and, in a way, had given up on life when he lost his last on-air job, at WPTT-AM, in December 2007. They said he further fell into depression in November 2009 upon the death of Laurence Gaines Jr., 43, his good friend, former producer and on-air sidekick at WTAE-AM from 1993 through 1998.
"The sad thing is that once he lost his radio show the last time and he knew he was not going to get back on the air, it broke his heart," said close friend Bill Zimpleman, who had known the broadcaster since shortly after Mr. Hoerth went on the air here in September 1980.
"He felt, 'What's the use of doing anything any more?' He became a recluse. He didn't eat much and lost a lot of weight."
And, he said, the situation was compounded with Mr. Gaines' death. "That hit him hard. He loved Laurence. He and Laurence did a great radio show together. He was hurt so bad when Laurence died. He was one of the few friends he had beside myself."
Former radio talk show host Lynn Cullen said that for Mr. Hoerth, her WTAE co-worker for about a decade, being on the radio was much more than a job.
"He was very gifted. He was made for radio. It was his life. His audience was his family. And when both were taken away from him, I think he was bereft," she said. "He was also bereft by [Mr. Gaines' death]. No two people were funnier on the air together. I think Laurence's premature death took so much from Doug, coming after he'd lost his show."
In a Pittsburgh Post-Gazette obituary about Mr. Gaines, Mr. Hoerth said their years working together "were five of the happiest years of my life."
His happiness was palpable whenever he was on the air, his joy carried undiminished by the radio waves.
"I love what I do for a living," he said in a 1996 Post-Gazette profile. "They pay me to have fun on the radio ... and I get my own sandbox and I get what's inside my system out of my system."
Zany, irreverent and free-wheeling -- more frat boy than shock-jock -- Mr. Hoerth constructed a spontaneous show around all the things on his mind right then and there -- from the glory of early rock 'n' roll to his take on the news of the day to whose presidential candidate's wife was hotter, to acting out the lines from favorite movies, such as "The Godfather" and "Blazing Saddles." He interviewed an eclectic mix of guests and wasn't above spoofing listeners, famously having them believe for years that singers Don Ho and Julio Iglesias were brothers separated at birth.
But when it came to his own life, Mr. Hoerth was brutally honest. Listeners knew -- because he told them -- that he was an only child from Bricktown, N.J., a recovering alcoholic and a former bug exterminator in Florida. His lifelong dream to be on the radio came true after he called a Florida talk show and told the general manager he could do better than any of his disc jockeys.
"He was so open -- some would say too open -- about every aspect of his life," Ms. Cullen said. "His audience lived through the minutiae of his relationships, marriage, divorce -- through his hemorrhoids -- and yet he could pull it off."
His multi-subject, multi-dimensional, usually funny and sometimes poignant show reflected the varied interests, knowledge and moods of its host, she said.
"He knew everything about '50s and '60s rock 'n' roll. ... He was an extraordinary interviewer. He never went to college, but he knew more about more stuff than most people with college degrees. He was self-educated, with a voracious mind and a steel trap memory. He was one of the greatest storytellers in broadcasting. He could hold an audience."
On Nov. 2, 2005, a little more than two years before his last contract expired and wasn't renewed, Mr. Hoerth marked his 25th anniversary on the Pittsburgh airwaves -- an amazing run for a radio talent in a single market. "The reason I've lasted is I never lost my passion for this," he said at the time.
He first signed on Nov. 2, 1980, on WWSW-AM followed by stints at KQV-AM, KDKA and WTAE-AM before joining WPTT in January 1999. He also hosted "Uncle Dougie's Rock 'n' Roll Oldies Party" on sister station WJAS-AM.
"The Doug Hoerth Silver Anniversary Special" covered some of his career highlights and included excerpts from notable interviews, such as the late writer/radio personality Jean Shepherd and the late Pittsburgh radio personality Rege Cordic and the late Pirates broadcaster Bob Prince.
"It's very sad. In my mind, he was one of the best talk show hosts there was," said Mr. Lenz, who was chief engineer at WPTT and WJAS. "He could talk politics but that wasn't his show. His show was whatever he wanted to talk about. Doug was a comic."
Mr. Hoerth daily read nine newspapers, Mr. Lenz said, and had a phenomenal memory. Because of that "he knew how to make good radio. I think he did better interviews than anybody on the face of this earth."
Ms. Cullen, who noted Mr. Hoerth's generosity toward her when she started in radio in 1986, said it was a sad reflection on the current state of talk radio that a talent like Mr. Hoerth couldn't find work.
"Radio changed," she noted. "It stopped wanting the audience he attracted ... older baby boomers. And because there's not the kind of eclectic talk he specialized in. Nobody does that anymore. Radio only wants vituperative political talk. He could do it, but that was not what wanted to do."
Mr. Hoerth, who had no surviving family members, requested there be no service for him but his friends said they may hold some kind of a memorial.
Mr. Zimpleman, who had dinner with Mr. Hoerth at the Bellevue Eat 'n Park nearly every Tuesday, said Mr. Hoerth would bring to their get-togethers a list of things he wanted to talk about -- just like the lists he once prepared for his radio shows.
"He just loved to be on the radio," Mr. Zimpleman said of his departed friend. "He just wished he could still be on."