Gordon Cooper, Astronaut, Is Dead at 77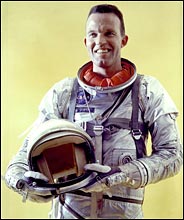 posted 2004-10-05 10:53:52 by stevemay





WASHINGTON, Oct. 4 - Gordon Cooper, the astronaut who flew the last of the pioneering Mercury space missions and stayed aloft in a Gemini capsule long enough to demonstrate that a trip to the moon was feasible, died Monday at his home in Ventura, Calif., NASA said. He was 77.
He died of natural causes, Mitch Breese of the Ventura County medical examiner's office, was quoted by The Associated Press as saying.
Mr. Cooper was the last Mercury astronaut and thus the last American astronaut to fly alone in space. His mission, in his Faith 7 capsule, from May 15 to 16 in 1963, covered 34 hours, 20 minutes, more than all five of the previous Mercury shots combined.
His second, and last, trip into space was on Gemini 5, a two-man, eight-day mission in August 1965 that set a space endurance record, just short of 191 hours.
In an era ripe with firsts, he was reported to be the first American to sleep in space - seven and a half hours, dreamlessly, he reported - and the first to fly twice. He was also the first American televised from space.
He was raring to go long before his launching. Visiting the factory where the booster rocket for his mission was being built, he attached a NASA seal to its side, drew an arrow pointing up and wrote, "Launch This Way!"
In orbit, he radioed back in his Oklahoma twang, "Boy, this is wonderful."
"Boy, oh, boy. It looks that pretty. Boy, oh, boy."
Toward the end of his Mercury mission, the automatic system that was supposed to control his descent failed, and he had to take control manually. When Mr. Cooper, then an Air Force major, was asked by flight controllers if he was in position for firing his retrorockets, he replied, "right on the old bazoo." He was hailed for making a bull's-eye landing, 7,000 yards from a waiting aircraft carrier.
Among other achievements of that flight, Mr. Cooper reported using a handkerchief to chase down droplets of water floating around in the zero-gravity environment and obscuring the view of his instruments.
The Gemini mission made Mr. Cooper the world record-holder for time in space, at 222 hours, though for a time it appeared that it would have to be brought down early because of a problem with an experimental device to produce electrical power, a fuel cell.
Astronauts now live in space for months at a time, but in the 1960's, no one was certain how long they could survive in a weightless environment.
"He truly portrayed the right stuff," Sean O'Keefe, the NASA administrator, said in a statement on Monday, recalling the Tom Wolfe book that recounted the history of the Mercury program. Mr. Cooper "helped gain the backing and enthusiasm of the American public, so critical for the spirit of exploration," Mr. O'Keefe said.
Mr. Cooper's death leaves three of the original seven astronauts still living, John H. Glenn Jr., the former senator from Ohio; Walter M. Schirra Jr.; and M. Scott Carpenter. Another, Virgil I. Grissom, known as Gus, was one of three astronauts killed in a fire inside an Apollo capsule on the launching pad. Donald K. Slayton, known as Deke, and Alan B. Shepard Jr. died of natural causes.
Mr. Cooper said he first took the controls of an airplane at age 7 or 8, when his father, an Army colonel, took him up. He was selected for the astronaut corps in April 1959, at 32 the youngest of the astronauts.
Leroy Gordon Cooper Jr. was born on March 6, 1927, in Shawnee, Okla. He completed three years at the University of Hawaii and received an Army commission; he later transferred to the Air Force and went on active duty in 1949. He flew F-84's and F-86's. In 1956, he received a bachelor of science degree in aeronautical engineering from the Air Force Institute of Technology. Later, he flight-tested experimental fighter aircraft at Edwards Air Force Base in California.
But his career was limited. In an August 2000 interview on CNN, he said he had not been chosen as a prime crew member for an Apollo mission because of "a lot of in-house politics." He did serve as an understudy on one mission.
Mr. Cooper appeared on television as part of a book tour for his memoir "Leap of Faith: An Astronaut's Journey into the Unknown" (HarperCollins, 2000). In it, Mr. Cooper described encounters he said he had had with unidentified flying objects in his days as a test pilot and stated his belief in extraterrestrial intelligence.
Mr. Cooper retired from the Air Force in 1970 as a colonel. Beginning before his retirement, he was the president of a company that built and distributed marine engines and fiberglass boats and another that tested and raced championship cars at Indianapolis and other tracks and pioneered the installation of jet engines on cars, according to his NASA biography.
He was part owner of a boat racing team and was a consultant to General Motors, Ford and Chrysler on automotive components.
Mr. Cooper's first marriage was to Trudy B. Olson. According to a NASA biography of Mr. Cooper prepared for the 40th anniversary of his Gemini flight, last year, that marriage ended in divorce, and he married Suzan Taylor in 1972. A NASA spokeswoman said last night that Mr. Cooper was survived by his wife but that she had no further information on survivors. The biography of a year ago lists four daughters: Camala Keoki Thorpe and Janita Lee Stone from his first marriage, and Elisabeth Jo and Colleen Taylor Cooper from his second.