Jack LaLanne, fitness icon, dead at 96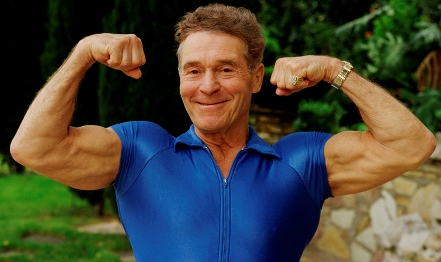 posted 2011-01-24 07:54:07 by jeffjones





Jack LaLanne, the fitness guru who inspired television viewers to trim down and pump iron for decades before exercise became a national obsession, died Sunday.
Fitness icon Jack LaLanne, a man who pushed Americans to pump iron, eat better and lose weight for more than 70 years, has died. He was 96.
The so-called "godfather of fitness" died of respiratory failure from pneumonia in his Morro Bay, Calif. home Sunday afternoon, his longtime agent Rick Hersh told The Associated Press.
LaLanne was a fitness pioneer, opening the first of his many exercise studios in 1936. He focused on weight-training at a time when the idea of pumping iron was strictly taboo, especially for women.
"You have to understand that it was absolutely forbidden in those days for athletes to use weights. It just wasn't done. We had athletes who used to sneak into the studio to work out," he once said.
Athletic trainers believed bulking up would slow athletes down and women were supposed to look curvy and feminine, not athletic and toned.
"Back then, women weren't supposed to use weights. I guess I was a pioneer," LaLanne said.
LaLanne became a household name after he launched a televised exercise program in the 1950s that aired until the 1970s. He would forever after be known for his dedication to healthy living and his signature one-piece belted workout suit.
"This is a nation of tired people," he said, in an effort to encourage people to exercise. "Everyone is suffering from that chroinc disease that I like to call pooped-out-itis."
"Inactivity is a killer," LaLanne once said. "The only way you can hurt the body is not use it."
LaLanne is survived by his wife and workout partner Elaine, his two sons Dan and Jon, and a daughter, Yvonne.
"I have not only lost my husband and a great American icon, but the best friend and most loving partner anyone could ever hope for," Elaine LaLanne said in a statement. The two had been married for 51 years.
With News Wire Services