Gerry Rafferty, Singer of 'Baker Street,' Dead at 63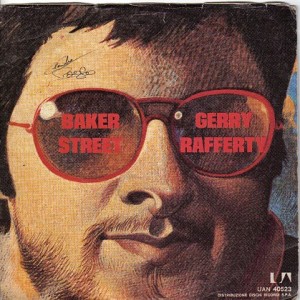 posted 2011-01-04 17:20:12 by DaveM





Gerry Rafferty, the Scottish singer-songwriter best known for the hits 'Baker Street' and 'Stuck in the Middle With You,' died Tuesday, the Guardian reports. The 63-year-old was hospitalized in November 2010 with liver failure and had been ill ever since.
Born in Paisley in 1947, Rafferty was the third child of a hard-drinking Irish miner who frequently abused his family. After his father died when he was 16, Rafferty left school to work and play music. After the Mavericks, his first band with school friend Joe Egan, fell apart, Rafferty joined the Humblebums, a folk band that featured future comedian and actor Billy Connolly.
The Humblebums went their separate ways after a few albums, Rafferty released a solo album in 1971 and formed Stealer's Wheel with Egan in 1972. The band's eponymous debut featured the hit 'Stuck in the Middle With You,' which sold over a million copies and was later featured in Quentin Tarantino's 'Reservoir Dogs.' The group, which had a top 40 hit with 'Star' in 1974, disbanded in 1975 after diminishing success and legal troubles.
With contract issues finally settled, Rafferty recorded a soft-rock solo album, 'City to City,' in 1978 and hit the big time with the single 'Baker Street.' The song eventually hit No. 2 on the US charts and No. 3 in the UK, with the album selling over 5.5 million copies. Rafferty followed up the albums with the successful 'Night Owl,' and acclaimed but less lucrative LPs like 'Snakes and Ladders' and 'Sleepwalking.'
Sadly, around this time he spiraled into alcoholism, leading his wife of 20 years, Carla, to divorce him in 1990. His drinking troubles continued, with an incident at a posh London hotel making the news in 2008. In 2009, rumors swirled about his health until representatives for him issued a statement saying that he was doing well and working on a new album. That year, he released 'Life Goes On,' which featured six new recordings and remastered tracks from his previous records.
Rafferty is survived by his daughter, Martha, granddaughter, Celia, and brother, Jim.