Peter Christopherson, Throbbing Gristle Founder, Dies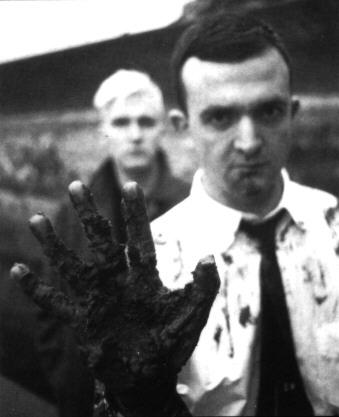 posted 2010-12-30 15:06:20 by grendel





Peter "Sleazy" Christopherson, a founding member of the influential band Throbbing Gristle, as well as an artist, photographer and designer, died Thursday, November 25 in his sleep, according to The Guardian. He was 55.
Born in the U.K., Christopherson became interested in radical artists while away at college at the State University of New York in Buffalo. He began a controversial career as a photographer, and soon was offered a job by Hipgnosis, the design team which made Pink Floyd's album covers. Christopherson's photographs also gained the attention of performance artists Genesis P-Orridge and Cosey Fanni Tutti. In 1975, the three formed Throbbing Gristle with Chris Carter (an electronics wiz who built his own synthesizers), and began creating a loud and angry sound built on white noise and clanking beats. They called it "industrial music."
The band, who were rejected by the punk rock movement, added new layers to their sound over time, including sweeter, synth-pop elements and ambient noise. Although they never achieved huge fame, Throbbing Gristle have earned their place as a hugely important band since their 1981 breakup – and have been credited as a huge influence by artists such as Nine Inch Nails' Trent Reznor.
After Throbbing Gristle ended, Christopherson formed Coil with partner Geoff Rushton and continued to push pop music taboos. Coil turned Soft Cell's "Tainted Love" into a song about the AIDS epidemic and Christopherson's accompanying video remains on permanent display at New York's Museum of Modern Art.
In the meantime, he also worked as a commercial artist, doing design and video work for Paul McCartney, Peter Gabriel and Rage Against the Machine and directing hundreds of commercials. He took great joy in making Max Factor commercials and then using his pay to make Coil recordings – such as His Body Was a Playground for the Nazi Elite.
Rushton died in 2004, thus ending Coil. In recent years, Christopherson had taken part in Throbbing Gristle reunions. At the time of his death, he was working with the band on a new version of Nico's 1970 LP, Desertshore.