Boney M Singer Bobby Farrell Dead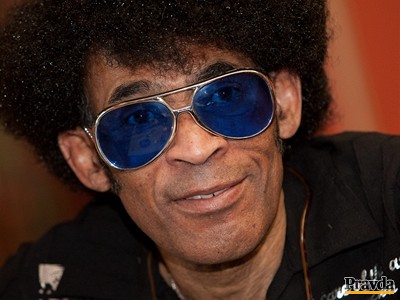 posted 2010-12-30 12:32:36 by doug





Frontman of '70s disco band died at age 61 while on tour in Russia.
Bobby Farrell, the energetic frontman of 1970s disco band Boney M, died on Thursday (December 30) in his hotel room in St. Petersburg, Russia, at the age of 61.
Reuters reported that Farrell was found dead in his room the day after a show in the city where the band achieved some of its career highlights during the Soviet era.
"He did a show last night as part of Bobby Farrell's Boney M and they found him this morning dead in his hotel room," agent John Seine told Reuters. "He did not feel well last night and was having problems with his breathing, but he did the show anyway." The cause of death was not immediately released.
The group, which formed in West Germany in the late 1970s, was put together by German record producer Frank Farian, best known for assembling the musicians who sang the vocals for sham 1990s pop duo Milli Vanilli. Farian, who made a career out of ghostwriting songs, was unable to make it as a singer, but when his tune "Baby Do You Wanna Bump" became a hit in 1976 under the stage name Boney M, he hired Farrell to act as the lead "singer" of the group.
Though former exotic male dancer Farrell and fellow Boney members Marcia Barrett and Liz Mitchell sang live during concerts, Farrell's vocals were largely absent from their biggest hits, including "Daddy Cool," "Sunny," "Ma Baker," "Rivers of Babylon" and "Rasputin." The group was well-received and scored a string of hits in Europe and Russia, but never really crossed over to the United States. They sold 80 million albums in their heyday and 1978's "Rivers of Babylon"/"Brown Girl in the Ring" is still the fifth-best-selling British single of all time.
By the time the group's fifth studio album, Boonoonoonoos, was released in 1981, Farrell, known as the "King of Disco," had been kicked out and replaced by another singer. Farrell (born Alfonso Farrell in Aruba on October 6, 1949) was slated to perform on New Year's Eve in Italy.