Dino De Laurentiis Dies at 91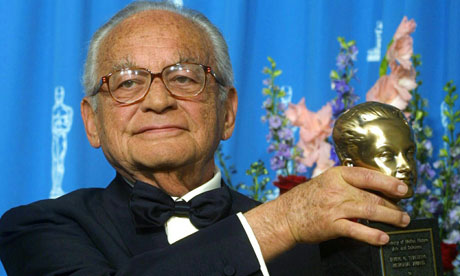 posted 2010-11-11 09:08:17 by jeffjones





(Reuters) - Here are some facts on film producer Dino De Laurentiis, who has been making movies for nearly 70 years and who died on Thursday. He was 91.
* Dino de Laurentiis was born, the son of a pasta manufacturer, in Torre Annunziata in Campania, Italy in August 1919. He enrolled in film school around 1936, supporting himself as an actor, extra, propman, or any other job he could get in the film industry.
Thu Nov 11, 2010 7:27am EST
His persistence paid off, and by the time he was 20, he already had produced one film. After serving in the Italian army during World War Two, De Laurentiis went back into film production, and scored a critical and commercial international hit with Riso Amaro (1949) ("Bitter Rice"). He later married its star, Silvana Mangano.
* MAJOR FILMS IN ITALY:
-- De Laurentiis eventually formed a partnership with producer Carlo Ponti, and the team had a string of hits, including several by director Federico Fellini, including "La Strada" (1954) and "The Nights of Cabiria" (1956) - both winners of best foreign film Oscars.
-- After the partnership dissolved, De Laurentiis embarked in 1957 on a plan to build his own studio facilities, which would enable him to make the kind of massive spectacles he wanted to make. The studio complex, called Dinocitta', eventually was forced to close down due to a combination of hard times in the Italian film industry and a string of flops by De Laurentiis himself.
-- He opened up a film production complex in Wilmington, North Carolina, called DEG Studios, but again in 1988 was eventually forced by economic conditions to sell that, too after the company filed for bankruptcy.
-- In 2005 De Laurentiis and Rome's famed Cinecitta Studios teamed up to create CLA Studios in Morocco, which stretched over 150 hectares (371 acres) with two shooting stages of 1,800 sq meters each.
* LATER WORK:
-- The man responsible for "Flash Gordon" also oversaw "Serpico," "Casanova" and "Death Wish" as well as the "King Kong" remake - "Barbarella" with Jane Fonda and the successful "Blue Velvet" and the box office hit "Hannibal."
LIFE DETAILS:
-- Silvana Mangano sued De Laurentiis for a divorce in 1988, a day after his entertainment company sought protection from its creditors under the bankruptcy code.
-- She said she and De Laurentiis, who became a U.S. citizen, married in July 1949 and separated in September 1983. Two years before their separation, their only son, Federico, was killed in a plane crash in Alaska. The couple also had three daughters.
-- In 2001 he was given the Irving G. Thalberg Memorial Award, an honor typically reserved for purveyors of serious, thoughtful and provocative films.
-- In 2003 the Venice Film Festival awarded him a Golden Lion for a lifetime of achievement.
(Writing by David Cutler, London Editorial Reference Unit;)