Paul the Octopus is Dead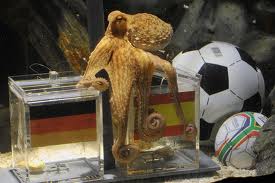 posted 2010-10-26 06:40:30 by tboz





This news will shock and sadden millions of people around the world. Paul the Octopus, the oracle cephalopod that correctly predicted the outcome of eight matches during the World Cup this year, has died. The Oberhausen Sea Life Aquarium has ruled out foul play.
Paul the Octopus, who gained worldwide fame this year by correctly predicting the outcome of eight World Cup soccer matches including the final this year, died peacefully in his sleep, the Sea Life Center in Oberhausen, announced on Tuesday.
"Management and staff of the Oberhausen Sea Life Aquarium were devastated when Paul was found dead this morning," the aquarium said in a statement.
The aquarium said it would erect a monument to the little brown octopus whose astounding predictive powers turned him into the true star of the tournament, eclipsing the likes of Lionel Messi, Wayne Rooney, Thomas Müller and Andres Iniesta. Spain won, and "Pulpo Paul" found a place in the hearts of the country's people.
TV channels around the world provided live coverage of his forecasts in June and July, made by choosing a tasty mollusc from two glass boxes lowered into his tank. Each glass box was marked with the flag of a soccer team and the one he opened first was his choice of winner.
There was a one in 256 chance that he would get all eight predictions right.
"Paul delighted people from all continents with his seven consecutive correct predictions for the matches of the German national team and for the final," said the aquarium's general manager, Stefan Porwoll. "He was dear to all our hearts and we will sorely miss him. He died peacefully in the night of a natural death. It is a comforting thought that he had a good life with us with the best possible care delivered by a committed team."
Some Germans, disappointed by Paul's unfavorable predictions towards their own national team, had joked that they wanted to fry the octopus up as calamari. Sea Life officials on Tuesday said, however, that the cephalopod would be cremated.