Tom Bosley, 'Happy Days' actor, dies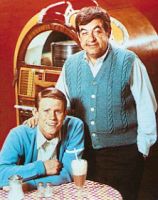 posted 2010-10-19 15:05:50 by dmcnelis





Happy Days actor Tom Bosley has passed away, his rep confirms with EW. The actor, who played Mr. Cunningham on the Garry Marshall-created series, died in Palm Springs, Calif., after a long battle with lung cancer.
He was 83 years old. Along with starring in the popular Happy Days, Bosley also toplined Father Dowling Mysteries, and appeared on such series as Love Boat and Murder, She Wrote. Most recently, he played a role in the Jennifer Lopez-starring film The Backup Plan.
According to Bosley's rep, services have been scheduled for Oct. 22 at the Forest Lawn Cemetery in Los Angeles.