Grand Ole Opry's Skeeter Davis Dies in Nashville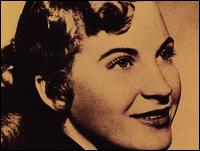 posted 2004-09-20 10:16:32 by stevemay





NASHVILLE, Tenn. (Reuters) - Country music singer Skeeter Davis, a veteran of Nashville's Grand Ole Opry, died on Sunday, according to a family friend.
In a 43-year career, she performed around the world, including at New York's Carnegie Hall and London's Royal Albert Hall. She earned five Grammy nominations, including one for the song ``Set Him Free'' in 1959, the year she joined the Opry.
Other hits were ``I Forgot More Than You'll Ever Know,'' ``The End of the World,'' and ``Gonna Get Along Without You Now.''
Davis was born Mary Frances Penick in Dry Ridge, Kentucky, and started performing early with singer Betty Jack Davis as The Davis Sisters. She went solo after Davis was killed in a car crash.