Former Pirates pitcher/broadcaster Nellie King dies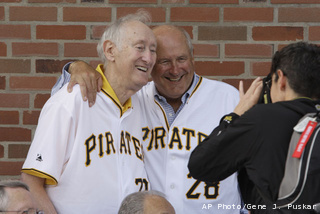 posted 2010-08-11 12:44:55 by grendel





Nelson Joseph "Nellie" King, a former Pirates pitcher and broadcaster and Duquesne University sports information director and broadcaster, died today.
His death was confirmed by Duquesne University athletic spokesman Dave Saba. He was 82.
n recent years, Mr. King, who was born on March 15, 1928, battled colon cancer and pneumonia.
Mr. King pitched for the Pirates from 1954-57, constructing a 7-5 record as he was used largely as a relief pitcher, playing alongside Pittsburgh greats Roberto Clemente, Dick Groat and Bill Mazeroski -- but that's not where he made his most indelible mark in baseball.
It was in the broadcast booth where Mr. King is remembered most, first working for smaller stations in Latrobe, Kittanning and Greensburg from 1960-67, covering mainly high school sports.
In 1967, his biggest break came, as Mr. King joined the three-man Pirates broadcast team alongside veterans Bob Prince and Jim Woods, and he announced Pirates games on radio and television until 1975. That position had opened when Don Hoak, a former Pirates player and Pittsburgher, moved from the broadcast booth to the dugout to take a position as a coach.
During his tenure in the booth for the Pirates, Mr. King was behind the microphone for some of the Pirates' brightest days, as he described action for teams that won the National League Eastern Division championship five times and, most notably, a 1971 World Series dominated by his former teammate, Clemente.
Mr. King, who graduated from Milton Hershey High School in Hershey, Pa., in 1945, also put together morning sports reports on WWSW and KDKA and weekend sports on local television stations WTAE and KDKA.
He served as color commentator for one final game in the nostalgia-filled 2000 season for the Pirates, the final year before Three Rivers Stadium was imploded.
After his experience in the Pirates booth, Mr. King moved into a sports communications role at Duquesne University in 1975, undertaking those duties until his retirement from that post in 1992. In addition to his sports information director position at Duquesne, Mr. King served as publicity director for the Eastern Eight Conference (now the Atlantic 10) and coached Duquesne's men's golf team for almost two decades.
But, even as he was the sports information director and golf coach, Mr. King still found a way with that hectic schedule to keep a part of him involved where he felt most comfortable -- behind the microphone. For 24 seasons, he was the color commentator for Duquesne men's basketball games alongside play-by-play man Ray Goss.
"My initial impressions, when he first got the job, was 'OK, here's a professional athlete, rebounding from his career and he's just going to be here for awhile and then move on,'" Goss said today. "That initial impression could not have been further from the truth. He worked so hard at his craft, at being both a public relations man and a radio man. And for that I admired him, I always admired the way he dug in and worked hard to learn new things."
"Just like some of the old time ballplayers, he was a regular guy," aid Mr. Goss, who will begin his 42nd year behind the Dukes microphone this year. "There were no airs about Nellie. It was never, 'Hello, I'm Nellie King, a former professional baseball player' when he introduced himself. There was none of that. He was just a regular guy; you'd walk up and talk to him and he was just like every other guy." Most recently, Mr. King wrote the 2009 book, titled "Happiness is like a Cur Dog: The Thirty-Year Journey of a Major League Baseball Pitcher and Broadcaster" in which he spins numerous yarns that only a man who made the voyage from a minor leaguer, to a major-leaguer to a big league broadcaster can tell.
The book's visibility spiked in popularity when television personality and noted baseball lover Keith Olbermann, who hosts Countdown on MSNBC, made mention of it during a telecast.
Mr. King is survived by his wife, Bernadette, and three daughters, Laurie, Leslie and Amy.