Cheez Doodle Inventor Dies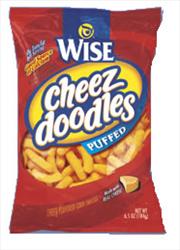 posted 2010-08-06 00:47:32 by jill





The inventor of Cheez Doodles, the neon-orange snacks that cling to your hands, died last week at 90.
Morrie Yohai, born in Harlem and reared in the Bronx, came up with the novel concept at his snack-food company in the late '50s. "We were fooling around and found out there was a machine that extruded cornmeal and it almost popped like popcorn," Yohai explained in a 2005 Newsday interview (now hidden away behind a very expensive pay wall) quoted in the New York Daily News. "We wanted to make it as healthy as possible, so it was baked, not fried."
Yohai, who had been a pilot in World War II, eventually sold his business to Bordon and became VP of snacks there, presiding over the selection of tiny toys inside Cracker Jack boxes. He was proud of his wildly successful Doodles, his family said, but his real passion was studying Jewish mysticism and writing poems—he published two books of them.