Frank Sidebottom Creator Chris Sievey Dies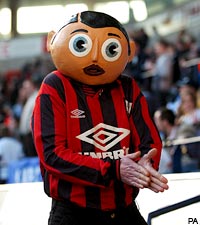 posted 2010-06-22 08:27:13 by grendel





Chris Sievey, the creator of Frank Sidebottom, has died at the age of 54. He was recovering from an operation to remove a tumour on his chest when he collapsed at his home in Hale, Greater Manchester.
Sidebottom, instantly identifiable by his bulbous paper mâché head, saucer eyes and retro-styled suit, began life as a character in a computer game, 'The Biz,' which appeared on the B-side of a single by Sievey's band the Freshies. Sidebottom quickly eclipsed the band he was supposed to promote. His Northern-slanted humour and keyboard ditties were associated with the late '80s and early '90s Madchester scene. In 1992 he was given his own show on ITV1, 'Frank Sidebottom's Fantastic Shed Show.'
Speaking to BBC Radio Manchester, Mark Radcliffe said Sievey was "one of the very few people I have ever met in my life who I would call a genius," adding, "He was so creative, so brimming full of ideas, and it wasn't just his act, he lived his life as an elaborate extended act."
Meanwhile, close friend and colleague Mark Alston told The Guardian: "He was a big comedy name in Greater Manchester, one of the biggest. He was also a musical genius and a good friend to many. He was a legend in the region and will be missed. He was saying that he was going to get shut of the cancer and not to cancel any more bookings."
Sievey recently wrote a World Cup song, 'Three Shirts On My Line'.