Former LAPD police chief Gates dies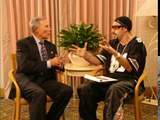 posted 2010-04-16 11:59:02 by MIKE





LOS ANGELES - Daryl F. Gates, the Los Angeles police chief during the city's deadly 1992 riots, has died. He was 83.
Gates was well-liked by rank-and-file police officers. He was also a tart-tongued career cop with a short fuse and a penchant for making controversial statements. He lead the police force from 1978 to 1992.
His 14-year tenure ended amid widespread criticism over his department's response to riots that broke out after four white officers were acquitted of most charges in the beating of Rodney King.