Obituary: Jim Bibby / Pirates pitcher, started twice in 1979 Series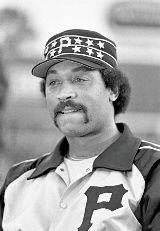 posted 2010-02-18 07:48:04 by stevemay





Bibby died Tuesday night at Lynchburg General Hospital. He was 65. No other details were available as his family requested privacy, adding that a statement would be released later.
Jim Bibby was so many things to so many fans. In Texas, he was the first pitcher to throw a no-hitter for the Rangers, where the legendary Nolan Ryan later seemed to perfect the feat. In Virginia, where he played for Lynchburg College, he became a baseball institution and a beloved pitching coach whose No. 26 remains the only jersey retired by the Class A Lynchburg Hillcats. In NBA circles, he was the baseball-playing brother of former star Henry Bibby, now an assistant coach with the Memphis Grizzlies, and uncle to Atlanta Hawks guard Mike Bibby.
In Pittsburgh, he was the sturdy, sweaty workman of an All-Star pitcher who started twice in the 1979 World Series, including the Game 7 that secured the championship for the "We Are Family" Pirates.
"You saw Bibby, that size [6 feet 5, 235 pounds], and you'd think of this giant of a man," former closer and Pirates alumni association president Kent Tekulve said Wednesday evening. "Yet his personality didn't fit his size at all. Just a very gentle, caring person who just happened to be a great pitcher."
Bibby, who was born Oct. 29, 1944, in Franklinton, N.C., began his 12-year, major league career with St. Louis in 1972 and moved to Texas, where he tossed the Rangers' inaugural no-hitter in 1973 against Oakland, and then Cleveland before finding glory with the Pirates. His most productive years were spent with the Pirates between 1978-83, when he went 50-32 with a 3.53 ERA in 146 games.
Signed off the street as a free agent in 1978, this right-hander with a reputation for inconsistency was headed for the Pirates bullpen initially.
"When he came to the Pirates in '78, he was going to be Gossage's replacement," Tekulve said, referring to Hall of Fame closer Goose Gossage. "That didn't work for him. He went into the rotation, and he was very, very consistent. When he came here was when it all kind of came together for him."
Bibby proceeded to compile records of 8-7, 12-4 and then a career-best 19-6 in 1980 that earned him an All-Star berth and third place in National League Cy Young voting. It was in the middle year, 1979, that he pitched three strong playoff games without recording a victory or loss. The Pirates ultimately won two of those games and were leading the other until a six-run Baltimore Orioles eighth inning in Game 4 of the World Series -- he exited with the Pirates leading, 6-3. In those three starts, he compiled a 2.08 ERA and 15 strikeouts in 171/3 innings.
"Look at the three games he pitched," Tekulve said. "Those were pressure-packed, outstanding games. It was 38 degrees at game time [for Game 7], and it got colder as the night went on; he was out there dripping [with sweat]. I looked at that as an indication that everything he had was put into it. Every fifth day, when Bibby went to the mound, you knew that you were going to get everything that he had that day."
He retired in 1984, at age 39, and became a pitching coach in Lynchburg, which was a minor league team first for the New York Mets, then the Boston Red Sox before the Pirates became affiliated with the Hillcats in 1995. He coached between 1985-2000. In 2002, the Hillcats retired his number and awarded the first 1,000 fans to City Stadium a Jim Bibby bobblehead.
"Anytime you get a two-for-one deal, it sounds pretty good, doesn't it?" he was quoted as telling the Lynchburg News & Advance then. "Not many minor league coaches get their jerseys retired. It's an honor for me, and I'm really appreciative of it."
Bibby is survived by his wife, Jacqueline, and two daughters, Tamara and Tanya.
"All of us at the Pittsburgh Pirates are deeply saddened by the passing of Jim Bibby," Pirates president Frank Coonelly said in a statement. "Jim was a well-respected member of the Pirates family, both as a player and a coach."