Fred Morrison, inventor of the Frisbee, dies at age 90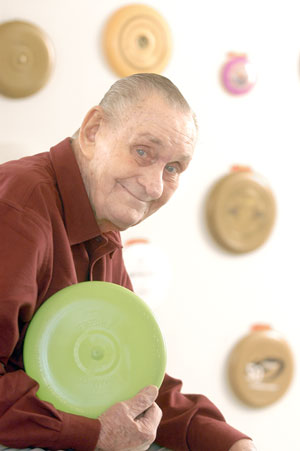 posted 2010-02-12 09:34:28 by jill





Fred Morrison, inventor of the Frisbee, has died at his home in Utah at the age of 90.
Morrison traced the idea for the Frisbee to a Thanksgiving Day family picnic in 1937 when he and his future wife tossed the lid of a popcorn tin back and forth for fun, the Deseret News reports. He took the idea to the beaches of Santa Monica where he sold the "Flying Cake Pan" for 25 cents.
Various versions -- and various names -- came and went over the years, especially after Morrison learned aerodynamics as a bomber pilot in World War II. There was the Whirlo-Way, the Flyin-Saucer and the Pluto Platter until Wham-o signed on with Morrison and registered the name Frisbee.
The name comes from the Frisbie Pie Company of Connecticut whose tins were also tossed around by New England college students for fun.
They started calling Morrison's Pluto Platter a "Frisbie," The Associated Press says. Wham-o took on the name but changed the spelling for legal reasons