British fashion icon Alexander McQueen commits suicide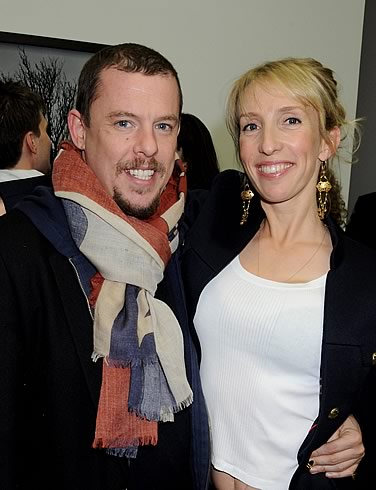 posted 2010-02-11 11:13:38 by stevemay





British fashion designer Alexander McQueen has been found dead after taking his own life.
The 40-year-old committed suicide just days after the death of his mother, Joyce, last week.
His death also comes just three years after his close friend, Isabella Blow - who plucked him from obscurity and helped him become a star - killed herself.
McQueen, who was christened Lee but used his middle name for his label, was found at his luxury flat in Green Park, central London.
An ambulance was called to the address at 10.20am. It is believed he hanged himself.
His death comes just days before the start of London Fashion Week and weeks before he was due to unveil his new collection at Paris Fashion Week on March 9.
His design company said in a statement: 'On behalf of Lee McQueen's family, Alexander McQueen today announces the tragic news that Lee McQueen, the founder and designer of the Alexander McQueen brand, has been found dead at his home.
'At this stage it is inappropriate to comment on this tragic news beyond saying that we are devastated and are sharing a sense of shock and grief with Lee's family.
'Lee's family has asked for privacy in order to come to terms with this terrible news and we hope the media will respect this.'
Openly gay, McQueen once described himself as the 'pink sheep of the family'. He married his partner, film-maker George Forsyth in the summer of 2000.
They ceremony took place on a yacht owned by the prince of Gambia in Ibiza and Kate Moss, a close friend, was a bridesmaid.
Posts on his Twitter page reveal he had been battling with grief after his mother died last Tuesday.
On February 3rd, he wrote: 'I'm letting my followers know the my mother passed away yesterday if it she had not me nor would you RIP mumxxxxxxxxxxxxxxxxxxxxxxxxxxx...
Moments later, he added: 'But life must go on!!!!!!!!!!!!!!'
Then on Sunday, he said: 'Sunday evening been a ****ing awful week but my friends have been great but now i have to some how pull myself together and finish with the...'
He appeared to have recovered slightly by this week, posting this Tuesday: 'I'm here with my girl annie tinkerbell wishing kerry the ****,happy birthday in NY, your 40 now girl time to slow it down we think.'
However, posts before his mother died also hint that he was having troubles. On February 1st, he wrote: 'From heaven to hell and back again, life is a funny thing. beauty can come from the most strangest of places even the most disgusting places.'