Steelers Hall of Fame runner 'Bullet' Bill Dudley dies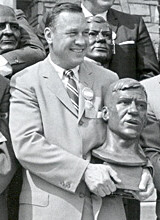 posted 2010-02-04 13:32:41 by stevemay





Steelers Hall of Famer Bill Dudley has died after a short illness, the Associated Press reported today. He was 88 and lived in Lynchburg, Va.
A halfback, Dudley was the Steelers' top draft choice in 1942 and led the league in rushing that season. He went into the Army for the next two years, then returned for two more seasons in Pittsburgh. In 1946, Dudley led the NFL in rushing, punt returns and interceptions - he also played defensive back.
Dudley played for the Detroit Lions from 1947 to 1949 and the Washington Redskins in 1950, 1951 and 1953. He was elected to the Hall of Fame in 1966.
After earning All America honors at the University of Virginia, 'Bullet' Bill Dudley helped the last-place Steelers to a 7-4 record in 1942 -- the best season in their history at the time -- and led the league with 696 rushing yards.
During World War II, he was a B-25 and B-29 pilot in the Pacific.
In 1946, he led the league in rushing (604 yards), interceptions (10) and punt returns and was named NFL Most Valuable Player.
Dudley lived since 1951 in Lynchburg, where was in the insurance business and also served in the Virginia legislature.