Former Penguins' coach Hlinka dies in car accident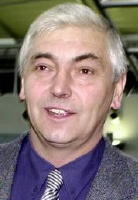 posted 2004-08-16 13:38:57 by stevemay





PRAGUE, Czech Republic -- Ivan Hlinka, a former Pittsburgh Penguins coach who led the Czech Republic to a gold medal at the 1998 Nagano Olympics, died today after being injured in a car crash. He was 54.
Hlinka's car collided with a truck late last night near Karlovy Vary, about 70 miles west of Prague. He was taken to a hospital, where he died, team spokesman Pavel Barta said.
"Ivan Hlinka was hospitalized with serious injuries and despite all efforts he didn't survive," hospital spokeswoman Zdenka Markova said, adding that Hlinka's most serious injuries were to his rib cage.
Hlinka was reappointed Czech coach in May, and was set to lead the team at the World Cup of Hockey later this month.
He coached the Penguins in 2001, taking them to the third round of the playoffs. He had a 42-32-9 record with the team before being replaced four games into the 2001-02 season.
"On behalf of the entire Pittsburgh Penguins organization, I would like to extend my deepest sympathies to Ivan's family," said Penguins general manager Craig Patrick in a prepared statement. "Ivan Hlinka was a tremendous ambassador for the game of hockey. He was a great hockey player, a player that many of the current Czech players idolized growing up. He brought a wealth of hockey knowledge and enthusiasm with him to the rink everyday. His contributions to the Penguins' organization during his time in Pittsburgh will never be forgotten."
A former standout in the NHL and on the international stage, Hlinka is widely credited with building the Czech Republic's hockey program into one of the elite in the world today. He served as head coach of the Czech national team during much of the 1990's, leading his country to a 1999 world championship and two Olympic medals, including the country's first gold medal at the 1998 Nagano Games. That team included Penguins players Jaromir Jagr, Robert Lang, Martin Straka, Jiri Slegr and Josef Beranek.
Hlinka enjoyed a successful career as a player in Czechoslovakia, including 11 appearances in the World Championships and three gold medals (1972, 1976, 1977). He also was a member of the 1972 and 1976 Czechoslovakian Olympic teams, winning bronze and silver medals. In addition, Hlinka was named top forward at the 1976 Canada Cup. He finished his international career with 132 goals.