Joe Rollino Dead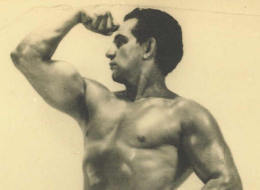 posted 2010-01-14 20:10:22 by grendel





NEW YORK — A famed strongman who once lifted 3,200 pounds at Coney Island during its heyday and was still bending quarters with his fingers at age 104 died Monday after he was hit by a minivan.
Joe Rollino was struck as he crossed Bay Ridge Parkway in Brooklyn, and suffered a broken pelvis, head trauma and broken ribs. He died a few hours later at an area hospital. Police said the driver was going the speed limit and had not been drinking. No criminality is suspected, but the driver was issued a summons for a defective horn.
During his storied life, Rollino hobnobbed with Harry Houdini, watched Jack Dempsey knock out Jess Willard and was friendly with Mario Lanza. He even had a bit part in "On the Waterfront."
Rollino would've been 105 on March 19, and was the model of health, according to friends. A vegetarian for life, he didn't drink or smoke, his friends said, and he exercised every day. He was a lifetime boxer and was part of the Oldetime Barbell and Strongmen, an organization of men who can still rip book binders at the seam.
Retired NYPD detective Arthur Perry, who boxed in the New York City Golden Gloves in the mid-1960s, met Rollino at his birthday party in 2008 and didn't believe Rollino was the celebrant – he looked too good for a centenarian.
"It was astonishing, how he was smiled upon by nature," Perry said. "If you would've said to me he was 80, I'd have said he looked younger."
A decorated World War II veteran, Rollino got his start as a strongman in the 1920s during the high point of the Coney Island carnival, and he billed himself as the "Strongest Man in the World."
He later made a living as a traveling boxer under the name Kid Dundee and fought in armories in cities around the country where boxing was forbidden.