Wax Trax Co-founder Dannie Flesher Has Died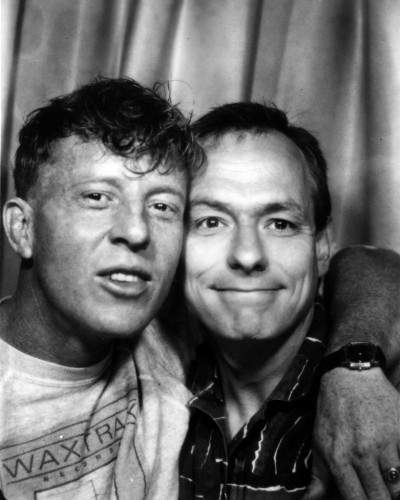 posted 2010-01-14 08:15:23 by grendel





Dannie Flesher, who oversaw the internationally acclaimed Wax Trax record store and label in Chicago during the '80s and '90s, has died at age 58.
Flesher died Sunday in his home town of Hope, Ark., of pneumonia. He had dropped out of the music business after Wax Trax folded and his life and label partner Jim Nash died in 1995. Flesher had returned to Arkansas in 2005 to live with family members.
Nash and Flesher opened a Wax Trax store in Denver in the '70s, then moved their operation to Lincoln Avenue in 1978. Their store, stocked with imported punk and electronic music, defined the cutting edge and was like the city's island of misfit toys, where punks, freaks and outsiders gathered to buy music, advertise shows and plot their futures.
In the '80s, the store expanded into a label that became the world headquarters for boundary-pushing artists who bridged disco, electronic music, rock, and the avant-garde. Some dubbed the sound "industrial disco," an umbrella term that included Ministry, Front 242, Underworld, KMFDM, and My Life With the Thrill Kill Kult, underground acts who went on to sell millions of records.
Whereas Nash was the flamboyant label spokesman and talent scout, Flesher was the quieter but no less important half of the franchise.
"Jim was the face of the label, but Dannie played a major role; he and Jim brainstormed everything together," said Reid Hyams, whose Chicago Trax studio hosted countless recording sessions by Wax Trax artists, including legendary bacchanals overseen by Ministry's Al Jourgensen.
Chris Connelly, one of the label's key artists, was based in Scotland when he was invited by Jourgensen to participate in a Chicago recording session in 1986. "I had never been to America before, and Dannie came to get me at O'Hare," he says. "He and Jim pretty much adopted me. Dannie was the rock with the aviator shades and a cool menthol-light cigarette hanging out of his mouth at all times. He had rock-solid info whenever you needed it. Amid all the craziness, a scene made up of complete flakes, he was the reliable one. To live with Jim that long, or to be involved with Trax, you had to bulldoze through."
Connelly was struck by the modesty of the operation. "I thought every record label in America was in a high rise, but here they were in an apartment above their store, with stacks and stacks of records in the toilet," he said. "I couldn't believe the label was being run by two guys who would sit at 1 o'clock in the afternoon and drink a Scotch and smoke a big fat joint. But they had something people wanted, they had great taste in music, and for a while it just got bigger."
In a 1991 interview with the Tribune, Nash laughed at the notion that he and Flesher were businessmen. "We're in the business of chaos," he said. But they had an ear for music that appealed to a large, vibrant audience that was largely ignored by the mainstream music business.
The duo's cavalier attitude toward business eventually did them in. They never signed contracts with any of the bands they discovered, and ended up losing most of their artists to major labels. Wax Trax went bankrupt and folded in the mid-'90s, but left behind a towering legacy.
"A lot of things opened up in this city thanks to Jim and Dannie," Frankie Nardiello of Thrill Kill Kult once told the Tribune. "They brought a lot of culture and coolness, a whole bunch of punk glitter, to a place that really needed it."
Flesher is survived by four brothers, three sisters and numerous nieces and nephews. No services have been announced.