KDKA-TV consumer reporter Yvonne Zanos dies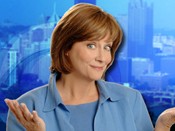 posted 2010-01-08 09:48:20 by dmcnelis





Yvonne Zanos, KDKA-TV's consumer reporter whose joyful personality burst through TV screens during her popular product test reports, died this morning from complications related to ovarian cancer. Her 60th birthday was Wednesday.
Ms. Zanos, who was diagnosed with ovarian cancer in late 2007, began her local television career at KDKA in the 1970s, reporting for "Evening Magazine." That was followed by a brief stint working on a similar program in Kansas City, Mo., before Ms. Zanos joined WTAE as a general assignment reporter in 1984. She began working on the consumer beat in 1987.
In 1994 she briefly flirted with leaving Pittsburgh for a job in Dallas but changed her mind, saying her roots in Pittsburgh were too deep to make the leap to another market.
Ms. Zanos re-joined KDKA in 1997, sitting out on-air appearances for a year due to a non-compete clause in her WTAE contract. She also wrote a consumer column for the Post-Gazette from 2000 to 2007.
In 2005, Ms. Zanos began her popular "Does It Really Do That?" consumer product test segments that rated everything from a can opener to a robotic vacuum. Ms. Zanos did not just test a product one way but every way imaginable, telling the story of the product and its testers' experience along the way.
"I would have difficulty finding someone who was as universally well-liked here and in the community," said KDKA-TV general manager Chris Pike. "It's a cliche, but what you see is what you get. Her personality, which was fun and contagious, came through the TV screen. Viewers recognized that she was genuine and enjoyed what she did, and that allowed her to develop a real special connection with viewers."