'Argentina's Elvis' Sandro dies aged 64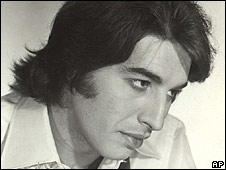 posted 2010-01-05 11:00:00 by jill





The Argentine musician Sandro, an early Latin American rocker who matured into a ballad singer, has died aged 64.
The singer, whose real name was Roberto Sanchez, began his rock career in the 1960s in the style of Elvis Presley.
He later developed into a ballad singer with a distinctive style and a strong following across Latin America.
Gyrating hips
Among his hits were Asi and Dame Fuego. In all, he recorded dozens of albums and starred in 16 films.
He was the first Latin American artist to sing at Madison Square Garden in New York in the 1970s.
Early in his career his dancing style, with its Elvis-style pelvic thrusts, scandalised conservative opinion, and his first TV performance triggered protests.
As a member of rock band Los de Fuego, at one performance the lead singer lost his voice and Sandro stepped in and was an instant hit with fans.
He eventually went solo after gaining a reputation as Argentina's answer to Elvis Presley with his gyrating hips and provocative dance moves.
In 2005 the singer collected a career achievement award at the Latin Grammys.
His health had been poor since he underwent transplant surgery in November because of chronic lung disease.
The musician put his illness down to a lifelong smoking habit.
"I am to blame for the condition that I am in. I deserve it, I sought it out. I picked up this damn cigarette," said Sandro in one of his final interviews to a Buenos Aires radio station