What Killed 'The Jeff Dunham Show'?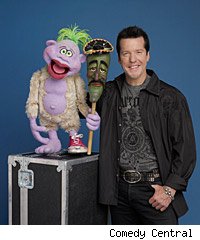 posted 2009-12-30 14:15:26 by jill





Dunham is hugely popular, and his fans are intensely loyal -- so the abrupt end to his show got us thinking about where it all went wrong. Disapproving critics? Were production costs too high? What ultimately killed 'The Jeff Dunham Show'?
When 'The Jeff Dunham Show' premiered in October, it was Comedy Central's highest-rated debut ever. Its success, however, proved limited at best. By the second episode, the audience for the politically correct ventriloquist's show had dropped a staggering 55 percent; in December, 'Dunham' averaged between 1.3 and 1.8 million viewers per episode, according to the Live Feed.
Now, it appears that Comedy Central has given up on the show. As we reported yesterday, a network spokesperson said that it has "no plans" to renew the show for a second season.
Despite the show's strong ratings, 'Dunham' was universally panned, with some calling his puppets "racist caricatures." Other critics questioned the entire premise of the show.
Time Magazine felt that Dunham's creations were "politically incorrect, gratuitously insulting and ill tempered." The New York Times, meanwhile, acknowledged the comedian's massive success, but also admitted that Dunham might just be "the most offensive person on television."
Even worse, the Chicago Tribune declared: "At best you won't laugh. At worst you will weep for the half hour you have lost and destroy all the puppets in your home." In fact, based on 7 different reviews, Metacritic gave the show a mere 20 out of 100 points.
However, no one else appeared more upset with the show than the website Videogum, which said "There is a huge difference between Jeff Dunham standing in front of a sympathetic audience spewing his vile, projected hate speech ... but it's a somehow even worse experience to watch him stand behind a black man at a gun range with a stupid redneck puppet on his hand and ask 'are you practicing to buy drugs?' Why did that man not turn around and shoot him in the face? Mysteries are all around us."
Fortunately for Dunham, he signed a larger deal with Comedy Central, which will see him headlining a fall 2010 special on the network. This will put him back in the live arena, which seems to work better for both him and his fan base.
Tell us what you think: What caused the demise of 'The Jeff Dunham Show?' Was it the reviews? Did it air on the wrong network? Or was something else to blame?