Actor Edward Woodward dies at 79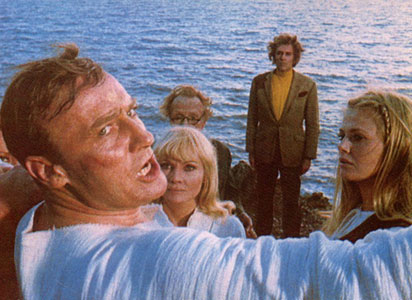 posted 2009-11-16 19:28:18 by dmcnelis





Veteran actor Edward Woodward has died aged 79, his agent has confirmed.
The Croydon-born star had been suffering from various illnesses, including pneumonia, and died in hospital, said Janet Glass.
Woodward is most famous for his roles in the cult 1973 horror film The Wicker Man, alongside Sir Christopher Lee, and TV series The Equalizer and Callan.
Sir Christopher described Woodward as "a very good friend and a splendid actor".
Ms Glass said he had been ill for several months and passed away surrounded by members of his family.
The actor, who lived in Hawker's Cove near Padstow, died at the Royal Cornwall Hospital in Truro.
"I knew him a very long time and he was a superb human being," she said.
"That integrity shone through in the roles he played. I can't ever remember, in all the productions he undertook, anyone having a bad word to say about him and he never had anything bad to say about anyone else either."
Ms Glass added: "Universally loved and admired through his unforgettable roles in classic productions, he was equally fine and courageous in real life, never losing his brave spirit and wonderful humour throughout his illness.
"His passing will leave a huge gap in many lives," she said.
Albert Square
He was last seen on screen in BBC One soap EastEnders as Tommy Clifford earlier this year.
Barbara Windsor said she was "deeply saddened" at the news.
"I have such fond memories of our time working together," she added.
Diederick Santer, executive producer of EastEnders, said: "All of us at EastEnders are very sad to learn that Edward has passed away.
"We were thrilled when he joined us for a stint of six episodes earlier this year. He was a delight to work with, and delivered a characteristically touching and layered performance. Our thoughts are with his family."
Robin Hardy, who directed The Wicker Man, said of Woodward: "He was one of the greatest actors of his generation, without any question, with a broad career on American television as well as British film.
"He was the absolute star of The Wicker Man. He was an extremely nice human being."
Film critic Barry Norman described Woodward was a "very fine" actor.
"He made about three dozen movies but he was rarely given the chance to star in a movie, " he told BBC News.
"The two films that do stand out are obviously The Wicker Man and Breaker Morant, about three British soldiers in the Boer War. In both he gave excellent performances."
Actor Simon Pegg, who was a big fan of Woodward and cast him in his 2007 film Hot Fuzz, said on Twitter: "So sorry to hear we have lost the great Edward Woodward. Feel lucky to have worked with him."
He later released a statement, saying that Hot Fuzz rehearsals "were often gleefully tossed aside just to hear him (Woodward) recount stories from his life and career.
"Edgar Wright and myself sought him out because we were fans of his work, by the time the cameras stopped rolling, we were devoted fans of the man. My love and sympathy goes out to Michelle and his family."
Woodward is survived by his second wife, the actress Michele Dotrice, and four children, three of whom he had during his first marriage.