Former MTV Host Ken Ober Dies at 52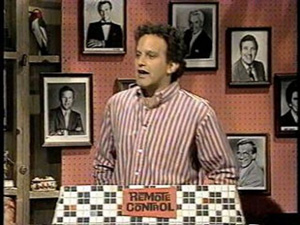 posted 2009-11-16 17:41:05 by beth





Ken Ober, a brassy comedian best known as the host of the 1980s-era MTV game show "Remote Control," died this weekend, Mark Measures, an agent at Abrams Artists who worked with him, said on Monday. Mr. Ober, who lived in Santa Monica, Calif., was 52. The cause of death was not immediately known.
Lee Kernis, a manager at Brillstein Entertainment Partners who represented Mr. Ober for more than 20 years, said that Mr. Ober was found dead on Sunday. He said that Mr. Ober was last heard from on Saturday night, when he spoke to a friend and complained of a headache and flu-like symptoms. Mr. Ober told the friend that he was going to take something and would see a doctor as soon as possible.
Mr. Ober, who grew up in Boston idolizing game show hosts like Bob Barker and Bob Eubanks, went on to host four game shows of his own, including a revived version of "Make Me Laugh" in 1997. But his breakthrough came a decade earlier when Mr. Ober, a contestant on the televised talent show "Star Search," became the host of the MTV series "Remote Control" in 1987.
That show, which was the network's first original series to focus on non-musical content, tested participants on their knowledge of television, music-video and pop-culture trivia. The show, which also provided a launching pad for the careers of comedians like Adam Sandler and Colin Quinn, drew much of its sarcastic, self-mocking spirit from the culturally obsessive Mr. Ober, who ran the program like a late-night talk show (or frat party) and gleefully teased players who gave wrong answers.
Van Toffler, the president of MTV Networks, said on Monday, "Ken was a great guy. His personality really brought 'Remote Control' to life, as well as a new style of programming for MTV. We were really flying by the seat of of our pants then, and Ken was the reason it worked."
In recent years Mr. Ober also worked as a producer on comedy series like "Mind of Mencia" and "The New Adventures of Old Christine."
Mr. Kernis said, "He was a terrific friend. I'm still shocked."