Dominick Dunne, Chronicler of High Society Justice, Dies at 83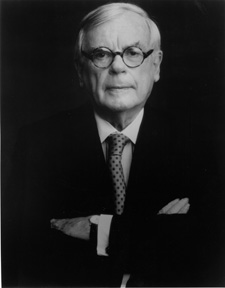 posted 2009-08-26 19:14:18 by beth





An author and longtime staff writer for Vanity Fair, Dunne was best known for covering the sensational 1995 trial of O.J. Simpson, the former football star charged with stabbing to death his ex-wife and her male friend.
Aug. 26 (Bloomberg) -- Dominick Dunne, a writer who was thrust into the criminal justice system by the murder of his daughter and then stayed to chronicle the crimes and courtroom dramas of the wealthy and privileged, has died. He was 83.
He died today at his home in New York City, Vanity Fair magazine reported on its Web site. The cause was bladder cancer, the magazine said, citing his son, Griffin Dunne. Dunne disclosed that he suffered from the disease in September 2008.
An author and longtime staff writer for Vanity Fair, Dunne was best known for covering the sensational 1995 trial of O.J. Simpson, the former football star charged with stabbing to death his ex-wife and her male friend.
Dunne was convinced of Simpson's guilt and appeared regularly on television to comment on the trial's many twists. When the jury acquitted Simpson on all counts, Dunne could be seen in the courtroom on live TV looking stunned, his mouth agape.
When Simpson was a defendant again in 2008 -- charged this time with armed robbery and kidnapping for attempting to retrieve sports memorabilia, which he claimed was his, from a Las Vegas hotel room -- Dunne resumed his role as a daily courtroom spectator, against the advice of his doctors.
"I had a literary following before, but because of O.J. I became a name and a public person, which I love," Dunne told the New York Times in September 2008.
Upon Simpson's conviction, Dunne wrote: "I had quite a few chats with O.J. during the Las Vegas trial. I found him to be a lonely figure with a wrecked life. This is the verdict that should have come 13 years ago."
Simpson was sentenced to 16 years in prison in December 2008.
Daughter Murdered
Dunne's interest in the American legal system, how it works and why it sometimes doesn't, stemmed from the 1982 killing of his daughter, Dominique, a film actress. He attended every day of the trial of her former boyfriend and accused killer, John Thomas Sweeney, and said he learned how courtrooms can be manipulated by theatrics and falsehood.
Sweeney "came dressed as, like, a sacristan at a Catholic seminary, and he held a Bible and he read it piously and it was all an act," Dunne said on CNN's "Larry King Live" in 2006. "I had never been to a trial before and it disgusted me. And the extraordinary thing is, it fooled the jury, and this man who strangled my daughter for five minutes got a slap on the wrist."
Convicted of voluntary manslaughter, Sweeney was sentenced to 6 1/2 years in prison and released after 2 1/2 years. Outraged, Dunne for a time paid a private detective to follow him.
Kennedy Connection
Dunne typically sided with prosecutors in the big cases he covered while using his social connections to ingratiate himself with friends of the accused.
His belief that a nephew of Ethel Kennedy bludgeoned to death a neighbor, Martha Moxley, in 1975, when both were 15, inspired his 1993 novel "A Season in Purgatory," about a politically connected family that deploys its power to cover up a killing.
The book begat a TV mini-series and refocused police attention on the dormant case. Though Thomas Skakel was long a chief suspect, it was his brother, Michael, who was indicted in 1998, convicted, and sentenced to 20 years to life in prison. In a 2003 article defending Skakel's innocence, his cousin, Robert F. Kennedy Jr., called Dunne "a driving force behind" the prosecution.
No Sympathy
Dunne had become interested in the Moxley case while in Palm Beach, Florida, covering the 1991 rape trial of another Kennedy relative, William Kennedy Smith, who was acquitted.
Dunne closely followed the case of the wealthy Menendez brothers of Los Angeles, Lyle and Erik, accused of murdering their parents. He cast doubt on their claims that their father, a Hollywood executive, had abused them sexually, and he cheered the verdict that sent them to prison for life.
"I feel not an ounce of sympathy for these two young killers," he wrote in Vanity Fair, "even though I acknowledge that they lived a miserable life with a pitiful mother and a detestable father. I happen to believe in the alternative solution of moving out, but that way of course, you risk not getting the money, and these kids liked money."
Dunne also covered the prosecutions of Claus von Bulow, Robert Blake and Phil Spector, and the inquest into the death of Princess Diana. When not in court, Dunne roamed the high-society parties that carried on around the trials.
He was twice sued by former Representative Gary Condit for comments about the politician's possible role in the death of Chandra Levy, a Washington intern with whom he had a relationship. One case was settled in 2005, the terms kept private. Condit's follow-up lawsuit was dismissed.
Show Business Dreams
Dominick Dunne was born on Oct. 29, 1925, in Hartford, Connecticut, the second of six children of Richard Dunne, a heart surgeon, and his wife Dorothy.
He attended Canterbury, a Catholic boarding school in New Milford, Connecticut, and was drafted into the U.S. Army in 1944. He served in France, Belgium and Germany in the final years of World War II.
Home after the war, he attended Williams College, where he acted in plays and "yearned for a life in show business," he wrote in "The Way We Lived Then," his 1999 memoir.
In 1952 he landed a job at NBC in New York, serving as stage manager of "The Howdy Doody Show." He moved to Los Angeles to work on the live television dramas that were attracting some of the biggest stars of the day. There, he began building his wide network of famous friends.
Drugs, Parties
Dunne became a vice president at Twentieth Century Fox and moved his family to a Beverly Hills mansion, where he and his wife, Ellen, hosted celebrity-filled parties.
His career and marriage were failing in 1978 when he left California to dry out from his drugs-and-alcohol lifestyle and to try his hand at writing. Eventually settling in New York City, he started work on what would become his first hit, "The Two Mrs. Grenvilles."
His 1984 account of the trial of his daughter's killer, his first article for Vanity Fair, kicked off his long-running role as a celebrity chronicler of crime and high society.
His novels included "People Like Us" (1988), "An Inconvenient Woman" (1990) and "Another City, Not My Own" (1997), based on the Simpson trial. He hosted a cable-television show, "Power, Privilege and Justice."
Dunne and his wife, known as "Lenny," were married in 1954 and lived separately since the 1970s. They have two surviving sons, Griffin, an actor, and Alex. Two other daughters died in infancy from a lung disease.
Dunne's brother, John Gregory Dunne, a screenwriter and author who died in 2003, was married to the author Joan Didion.