Joseph Stephen Kimani Nganga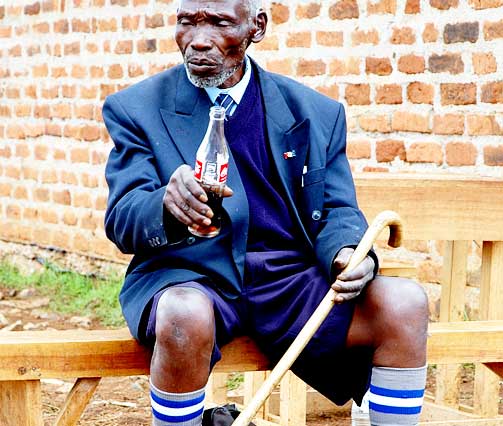 posted 2009-08-19 12:35:31 by MIKE





NAIROBI, Kenya (AP) - A Kenyan man who was believed to be the world's oldest pupil has died at the age of 89, five years after he entered primary school so that he could learn to read the Bible, his family said Monday.
Joseph Stephen Kimani Nganga (un-GAH-un-GAH) Maruge (ma-ROO-gay) died Friday at the Kariobangi Cheshire Home for the aged in the Kenyan capital, Nairobi. He died of stomach cancer, said his granddaughter, Anne Maruge.
Maruge accomplished his biggest goal - being able to read the Bible - but he remained shy of completing primary school.
"In the morning he used to wake up early to read the Bible before going to school," Anne Maruge, 18, told The Associated Press. "Even when he fell ill and you found him basking in the sun, often he would be reading the Bible."
Maruge enrolled in primary school in the western Kenya town of Eldoret in January 2004 after the government decided to make primary school free. He wore a school boy 's uniform - shorts, sweater and long socks - and walked to class hunched over, a book bag slung over his shoulder.
The Guinness Book of World Records listed Maruge as the world's oldest primary school pupil.
Survived by four children, 19 grandchildren and one great-grandchild, Maruge overcame great odds to attend school. His home in the Rift Valley was burned down in Kenya's bloody postelection violence in early 2008, forcing him to live in a displacement camp with thousands of others who lost their homes in the bloodshed.
He continued his studies despite the living conditions, and the Red Cross moved him into the old-age home in May 2008, Anne Maruge said. He stopped attending classes in January because of his illness.
"When he became ill, he started to cry because he was not going to go to school," Anne Maruge said.
Maruge went to New York in 2005 to promote a global campaign to get more children into schools.
"Liberty means going to sc h ool and learning," he said in an interview at that time. "You are never too old to learn."