Billy Lee Riley, Rockabilly Singer and Sun Records Artist, Dies at 75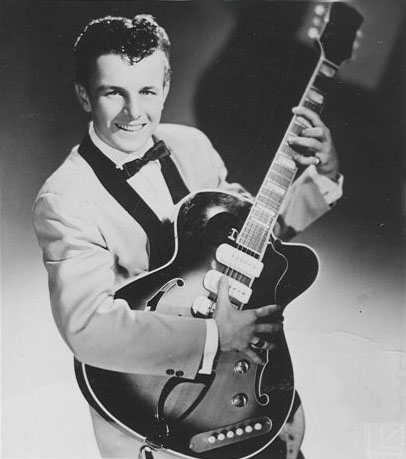 posted 2009-08-04 07:38:16 by stevemay





JONESBORO, Ark. — Billy Lee Riley, a rambunctious performer who helped develop the Sun Records sound as a studio musician for other headliners, died here on Sunday. He was 75.
The cause was cancer, his wife, Joyce, told The Commercial Appeal in Memphis.
Mr. Riley's singles included "Red Hot" (with its memorable lyric, "My gal is red hot, your gal ain't doodly squat") and "Flyin' Saucers Rock & Roll," the song that led him to call his band the Little Green Men for a time.
Mr. Riley was one of the early performers who recorded at the legendary Sun Records in Memphis, but he was overshadowed by his associates, including Elvis Presley, Carl Perkins and Jerry Lee Lewis. Among many songs, Mr. Riley and his band played on the original Sun recording of Lewis's "Great Balls of Fire."
Mr. Riley's voice at times had a cadence similar to Presley's, but early on he sang with more of a growl. His voice softened in his later recordings, which focused on blues. A 22-song compilation, "Red Hot: The Very Best of Billy Lee Riley," is among records that are still available.
Born in the town of Pocahontas, Mr. Riley grew up in a sharecropper family in northeast Arkansas and learned guitar and harmonica from other families. In the early 1960s, he took his talents to California, where he worked as a studio musician for the Beach Boys, Sammy Davis Jr. and Dean Martin. He also played bass and drums and sang.
Mr. Riley continued to perform, touring in Europe in the 1970s and '80s to receptive audiences. And he kept performing late in life.
In addition to his wife, Mr. Riley is survived by their daughter, Angela Johns, and three children from his first marriage, Erin Riley, Wendy Kennedy and Darron Riley.