Sean Rooney, Beetlejuice's manager dead at 38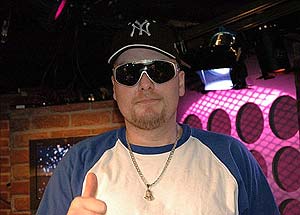 posted 2009-07-17 10:51:27 by doug





Sean Rooney died Friday, July 10, 2009 in Bellefonte, PA at the age of 38.
Rooney was a star basketball player at St. Anthony's High in Jersey City.
And he also introduced the most popular wack packer, Beetlejuice, to the Howard Stern show.
Beetlejuice went on to become the show's premiere wack packer with his off the cuff replies to Stern's interview questions.
Rooney suffered a stroke two years ago. He credited Beetlejuice with saving his life, after Beetlejuice alerted Rooney's wife.