Pat Brady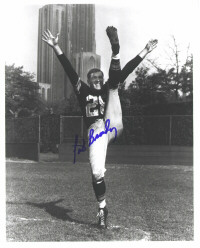 posted 2009-07-17 09:18:43 by grendel





RENO, Nev. (AP) — Pat Brady, whose booming punts for the Nevada Wolf Pack and Pittsburgh Steelers remain part of football legend more than half century later, died Tuesday. He was 83.
He died in Reno after a lengthy battle with lymphoma, his family said.
Brady, a University of Nevada Hall of Famer, came to Nevada in 1949 as a quarterback and punter. In 1950, he set an NCAA record with a 99-yard punt in a game against Loyola, Calif.
He joined the Pittsburgh Steelers two years later, and led the league in punting in 1953 and 1954 before his career was ended by an injury.
In 1971, he was appointed Nevada State Printer. He also was a longtime executive at Reno Printing Co. and co-owner of the Bonanza Casino.