Lou Creekmur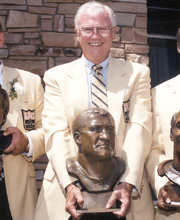 posted 2009-07-09 15:58:19 by MIKE





ALLEN PARK, Mich. (AP) — Hall of Fame offensive lineman Lou Creekmur, who starred on the Detroit Lions' three NFL championship teams of the 1950s, died Sunday. He was 82.
Creekmur, who was in failing health in recent years, died at University Hospital in Tamarac, Fla., the team said.
Creekmur played for the Lions from 1950-59, mostly at left tackle. He made eight straight Pro Bowl teams, was picked to the All-NFL team six times and was chosen for the Lions' 75th Anniversary Team in 2008.
Creekmur was inducted into the Pro Football Hall of Fame in 1996, joining Lions teammates including Bobby Layne, Joe Schmidt, Doak Walker and Yale Lary.
Creekmur was a second-round draft pick in 1950 out of William & Mary. He served in the Army in 1945 and '46 before returning to college.
Lions president Tom Lewand said Monday that Creekmur will be remembered as one of the true standout players in Lions history.