Tennis star Montcourt dies at 24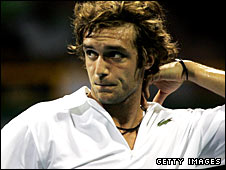 posted 2009-07-07 16:17:02 by grendel





French tennis player Mathieu Montcourt has died unexpectedly at the age of 24.
Montcourt, who was ranked 119 in the world, was found dead by his girlfriend in the stairwell of his Paris apartment.
The reason for his death is as yet unexplained and an autopsy will be carried out to determine the cause.
"Mathieu was an enthusiastic young man, passionate, and extremely appreciated for his kindness and politeness," read a French Tennis Federation statement.
In June, Montcourt achieved his highest career ranking of 104 after reaching the second round at the French Open, where he lost to Radek Stepanek of the Czech Republic in four sets.
"Mathieu was a promising young player," added Patrice Dominguez, the FFT's technical director.
"We are totally devastated. Our first thoughts are with his family."
In August 2008, Montcourt was banned for eight weeks and fined £7,420 for betting on matches.
The Court of Arbitration for Sport later reduced his ban on appeal from eight to five weeks.