Actress Mollie Sugden dies at 86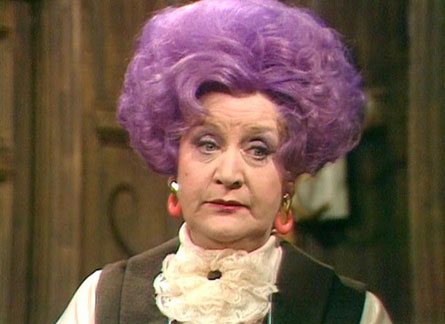 posted 2009-07-02 03:28:26 by arnoldam





Comedy actress Mollie Sugden, best known for her role as Betty Slocombe in the hit TV series Are You Being Served?, has died in hospital at the age of 86 after a long illness.
The popular television star shot to fame in the 1970s comedy show packed with double-entendres, as the panto-like character of Mrs Slocombe
She died after a long illness, according to her agent, who said she had never receovered from her husband's death in 2000.
Sugden's twin sons, Robin and Simon Moore, were at her bedside at the Royal Surrey County Hospital, said agent Joan Reddin.
David Croft, one of the writers of Are You Being Served?, remembered her as a 'marvellous character' who would never turn down chances to make people laugh.
'She would never refuse any sort of comedy situation no matter how undignified it was she would always go along with it. She was marvellously funny,' he said.
Frank Thornton, who played Captain Peacock in the comedy, told the BBC: 'Mollie, of course, was an excellent comedian.
'If you can play comedy, you can play anything - you can play tragedy as well.
'And if you can only play tragedy, you can't play comedy. She was a jolly good actress.'
Ms Reddin, who began representing Sugden in the 1960s, said the actress had become a 'very close friend'.