Baseball Legend 'The Bird' Found Dead At Home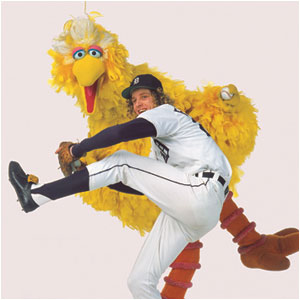 posted 2009-04-13 21:36:44 by doug





BOSTON -- A charismatic retired baseball player was found dead at his Northborough home Monday after an apparent accident, the Worcester County District Attorney's office said.
Mark Fidrych, 54, of 260 West St., was found dead on his farm, said Worcester District Attorney Joseph D. Early Jr.
Fidrych, a retired major league player for the Detroit Tigers, was found by a family friend underneath a dump truck at about 2:30 p.m. He appeared to have been working on the truck at the time of the accident, Early's office said.
Rich Pilling/MLB Photos via Getty Images
The colorful right-hander was the American League rookie of the year in 1976 when he went 19-9 with a 2.34 earned run average. That year he finished second in the Cy Young balloting.
He spent all five of his major league seasons with the Detroit Tigers, compiling a 29-19 record and a 3.10 ERA.
In the minor leagues, Fidrych earned the nickname "The Bird." One coach thought his tall, lanky build bore a resemblance to "Big Bird" on the Sesame Street television program.
Sports Illustrated
Fidrych and the television character appeared together on the cover of Sports Illustrated in 1977
"The Bird" was known for delighting fans with his antics on the field. He would talk to the ball and often insist that certain balls be removed from the game because "they had hits in them."
On the mound, he would often crouch down and fix cleat marks. "Manicuring the mound" became one of his trademarks.
[Mark Fidrych in 1976 with the Tigers.]
MLB Photos via Getty Images
Mark Fidrych in 1976 with the Tigers. More
His popularity around baseball was such that attendance soared whenever and wherever he pitched. After his rookie year, the Tigers signed him to a three-year contract worth $255,000.
Fidrych grew up in Northborough and attended Algonquin Regional High School.
His career was cut short by injuries. Fidrych attempted a comeback in 1983 with the Boston Red Sox and went to their Triple A team in Pawtucket, R.I. But he never pitched in the majors after 1980 and retired in 1983.
Fidrych's death remains under investigation.
Copyright 2009 by TheBostonChannel.com. The Associated Press contributed to this report. All rights reserved. This material may not be published, broadcast, rewritten or redistributed.