Harry Kalas, longtime Phillies voice, dies at 73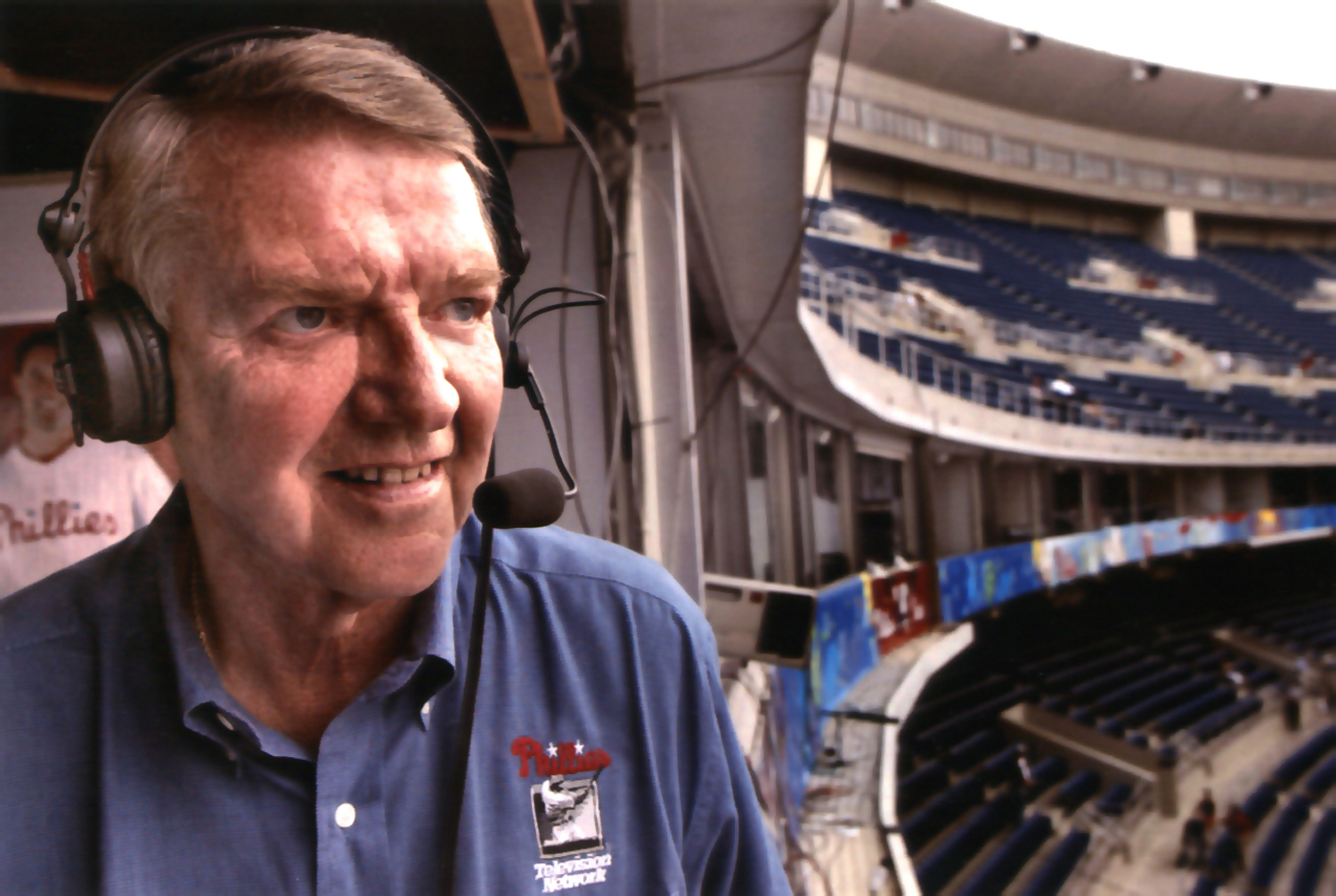 posted 2009-04-13 15:48:37 by beth





WASHINGTON -- Longtime Philadelphia Phillies broadcaster Harry Kalas, who punctuated innumerable home runs with his "Outta here!" call, died Monday after being found passed out in the broadcast booth before a game against the Washington Nationals. He was 73.
"We lost our voice today," team president David Montgomery said, his voice cracking. "He has loved our game and made just a tremendous contribution to our sport and certainly to our organization."
Kalas was discovered by the Phillies director of broadcasting about 12:30 p.m. and taken to a local hospital, Montgomery said.
Kalas had surgery earlier this year for an undisclosed ailment that the team characterized as minor. He looked somewhat drawn last week as the Phillies opened the season at home.
Kalas joined the Phillies in 1971. Before that, he was a member of the Houston Astros' broadcast team from 1965-70.
In 2002, he received the Baseball Hall of Fame's Ford C. Frick Award for his contributions to the game.
"Players come and go, but 'Outta here!' -- that's forever," said Scott Franzke, a Phillies radio broadcaster.
Kalas lent his sonorous voice to everything from puppies to soup. He did work for NFL Films, was the voice for Chunky Soup commercials and Animal Planet's annual tongue-in-cheek Super Bowl competitor, the Puppy Bowl.
Cincinnati Reds broadcaster Marty Brennaman, a contemporary of Kalas' and a fellow Ford Frick Award winner, said Kalas' legacy will extend beyond the broadcast booth. "I always find it interesting when a celebrity passes away and people are so quick to say, 'He was a great actor,' or, 'He was a great broadcaster.' Harry Kalas was a great person,'' Brennaman. "As much as we will remember Harry as a broadcaster, many of us will remember him even more as being a hell of a guy.'' Brennaman said he spoke to Kalas by phone late last week. The friends talked for 45 minutes, and among other things, they discussed the importance of eating right, getting enough sleep and dealing with the hectic lifestyle of a major league broadcaster at an advanced age. "I considered Harry a very good friend, and I was concerned about his health. I talked to him about getting the proper amount of rest and the things that we need to think about at our ages,'' said Brennaman, 66. "I was very concerned about him, but he sounded good. When I found out about it today, I was shocked. It's very, very sad.''
Kalas joined the Phillies radio and TV broadcast team the year the club moved into its former home, Veterans Stadium, replacing fan favorite Bill Campbell.
He wasn't immediately embraced by Phillies fans, despite being paired with Richie Ashburn, a Hall of Famer as a player, and longtime announcer.
But Kalas evolved into a beloved sports figure in Philadelphia. He and Ashburn grew into a popular team, and shared the booth until Ashburn's death in 1997.
"Major League Baseball has lost one of the great voices of our generation," commissioner Bud Selig said in a statement. "Baseball announcers have a special bond with their audience, and Harry represented the best of baseball not only to the fans of the Phillies, but to fans everywhere."
Kalas fell in love with baseball at a young age, when his father took him to Comiskey Park to see the Chicago White Sox play the Washington Senators. It was a rainy night, and Kalas sat with his dad behind the Washington dugout.
"Because of the rains, the field was covered," he told The Associated Press. "There was no batting practice, so the players really didn't have anything to do. Mickey Vernon popped out of the dugout, saw this wide-eyed kid -- me -- picked me up, took me in the dugout, gave me a baseball, introduced me to his teammates, and thus began my love of baseball and the Washington Senators."
He maintained that enthusiasm for the game throughout his career.
The son of a Methodist minister, the Naperville, Ill., native graduated from the University of Iowa in 1959 with a degree in speech, radio and television. He was drafted into the Army soon after he graduated.
In 1961, he became sports director at Hawaii radio station KGU and also broadcast games for the Hawaii Islanders of the Pacific Coast League and the University of Hawaii.