Angel actor Andy Hallett dies at 33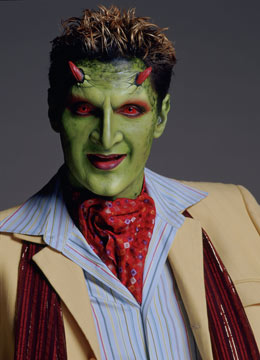 posted 2009-04-03 14:45:41 by grendel





Andy Hallett, who portrayed a charming, karaoke-singing demon on the Buffy the Vampire Slayer spinoff show Angel, has died at the age of 33.
Hallett was rushed to Cedars-Sinai Medical Center in Los Angeles on Sunday after suffering breathing problems. He died there, following a five-year battle with congestive heart disease, his agent, Pat Brady, said Tuesday.
Born in Osterville, Mass., Hallett moved to Los Angeles at the age of 23. He worked as a messenger at a talent agency and eventually scored a job as an assistant to the wife of Buffy and Angel creator Joss Whedon.
After seeing Hallett perform karaoke, Whedon asked the lanky young man to audition for a new character on Angel, which starred David Boreanaz as the titular brooding vampire with a soul.
Described by his father as "a very gregarious, happy young man," Hallett became a fan favourite on the show as Lorne, the red-horned, green-skinned, lounge lizard-inspired owner of a demon karaoke bar.
Lorne, who could deduce elements of the future for those he heard sing, soon joined Angel 's group of do-gooders. The show ended in 2004.
According to Brady, Hallett was diagnosed with his heart condition as the show came to an end and had been in and out of hospital over the past five years.
The actor is survived by his parents, Dave and Lori Hallett.