Ron O'Neal, 66, Actor Who Starred in 'Superfly' Films, Dies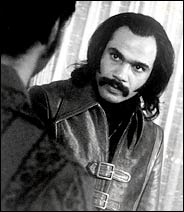 posted 2004-01-22 16:32:02 by stevemay





LOS ANGELES, Jan. 16 (AP) — Ron O'Neal, whose role as the cocaine dealer Youngblood Priest in the 1972 film "Superfly" epitomized the era's blaxploitation genre, died here on Wednesday. He was 66.
The cause was cancer, said his wife, Audrey Pool O'Neal.
Born in Utica, N.Y., Mr. O'Neal was reared in Cleveland, where he became involved in Karamu House, an interracial experimental theater troupe.
He headed to New York in the late 1960's to pursue theater, teaching in Harlem to support himself.
Mr. O'Neal got his break in the Public Theater production of Charles Gordone's "No Place to Be Somebody," which earned him several theater awards, including an Obie in 1970. His performance brought him to the attention of the producers of "Superfly," who fell in love with his rugged, street-smart interpretation of Priest, a k a Superfly, an ultra-violent cocaine dealer who wants out of the business after one last big score.
"Superfly" was a surprise hit, leading Mr. O'Neal to repeat his role in the sequel, "Super Fly T.N.T.," a 1973 film that he also directed.
Unfortunately, his bad-boy persona became associated with the entire blaxploitation genre, which quickly devolved into parody.
Mr. O'Neal still had a long career as a character actor on television and in film, appearing in low-budget movies like "Mercenary Fighters" (1987) and "Up Against the Wall" (1991), which he also directed.
In 1996 he joined other former 1970's black action stars, including Jim Brown, Fred Williamson, Richard Roundtree and Pam Grier, in a reunion in the movie "Original Gangstas."
Mr. O'Neal's last film was "On the Edge" (2002), in which he appeared with Mr. Williamson and the rapper Ice-T.
He is survived by his wife.