Vincent C. Lascheid Jr. / Organist set tone for Bucs, Pens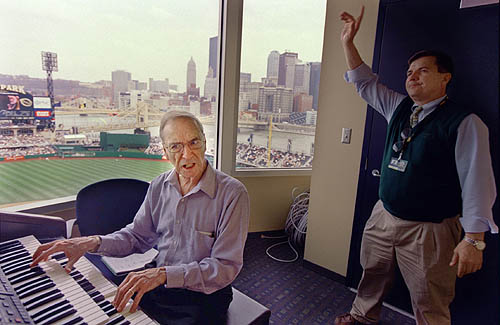 posted 2009-03-21 09:22:05 by pinenut





Vince Lascheid, the City of Champions' organist laureate whose keyboard cleverness tickled generations of sports fans, died Thursday night. He was 85.
For four decades, he supplied the live musical soundtrack for the Pittsburgh Pirates, who are planning a tribute to him during their home opener April 13, and for the Penguins, which before last night's home game held a moment of silence for the man who entertained during breaks in the action. Mr. Lascheid was inducted into the Penguins' Hall of Fame in 2003, the last year he played for the team.
"He probably is the only organist in the history of professional sports to be inducted into a team hall of fame," said Penguins spokesman Tom McMillan. He was among many who fondly recalled Mr. Lascheid's acoustic antics, such as playing "Give My Regards to Broadway" for a last-minute win over the New York Rangers and "Let There Be Peace On Earth" during a brawl. Back when there were three officials, he used to serenade them with "Three Blind Mice" until the National Hockey League told him stop.
The passing of this local icon -- the answer to the riddle, "Who's the only person to play for the Pirates, the Penguins and the Steelers?" -- spurred an outpouring from many. (See the online guestbook at post-gazette.com.)
Pirates President Frank Coonelly hailed him as "the true definition of the word gentleman." Penguins President David Morehouse said "his enthusiasm, dedication and unique style made him a huge part of Pittsburgh's sports history and tradition."
In 1970, Mr. Lascheid was playing piano at the Colony Steakhouse in Scott, a gig he'd started in 1963. He already had a fan club and an album, "Vince Lascheid at the Colony." One night when he played requests for Pirates broadcaster Bob Prince and Pirates General Manager Joe Brown, Mr. Brown offered him a job playing the organ at the new Three Rivers Stadium, which Mr. Lascheid helped open on July 16, 1970.
That led to the job of playing during hockey games at what was then the Civic Arena. Mr. Lascheid manned the organ at both the arena and the stadium through 1972, took a break until '78, resumed playing until taking another break in '82, and then picked it back up again in 1987. So he had two World Series wins under his belt as well as two Stanley Cups.
His family said he also played the organ for two seasons for the Steelers. Over the years, he'd also played organ for the Duquesne Dukes college basketball team, the Pittsburgh Condors pro basketball team, the Spirit indoor soccer team, even the Triangles tennis team.
Along the way, he fathered and raised five children and helped raise a granddaughter named Melody.
"He was awesome with a capital A," said Melody's mom, Mindy Lascheid-McKee, of Scott. She said her father, who had been struggling with Alzheimer's disease, fell and broke his hip two weeks ago. He died Thursday at Family Hospice and Palliative Care Center for Compassionate Care in Mt. Lebanon.
In addition to Ms. Lascheid-McKee and his wife, Linda, Mr. Lascheid is survived by daughter Mary Sue Lascheid, of Redding, Calif.; sons Richard, of Altantic City, N.J., and Vincent, of Los Angeles; brother, Dr. William Lascheid, and sister Mitzi Heinauer, both of Naples, Fla.; and several grandchildren and great-grandchildren.
He was born Vincent Charles Lascheid Jr. on Dec. 26, 1923, in Cleveland, where his father had moved for an accounting job from Pittsburgh. Here, the German family had deep roots on the South Side and in Knoxville, where Vince's pharmacist grandfather sold patent medicines and soda pop bearing the Lascheid name. Vince was 5 when his family moved back to Mt. Lebanon, where he lived until moving to Scott several years ago.
By 11th grade, he was jamming in a big band. After graduating from Mt. Lebanon High School in 1943, he went to Bethany College on a program sponsored by the Navy, which called him to active duty after one semester. He attended officer training but did lousy at everything except playing in the Navy band. One day an officer told him the Navy air base in Norman, Okla., was looking for a dance-band piano player, and off Mr. Lascheid went.
It was in that outfit that he played under Tex Benecke, who'd been the singing saxophonist with the Glenn Miller Orchestra before the war. After the war, Mr. Benecke and the Glenn Miller band again hit the road, and Mr. Lascheid went with them. They traveled by Greyhound bus, doing live broadcasts sponsored by Chesterfield cigarettes.
After nine months, Mr. Lascheid quit and came home. His replacement: another local musician named Henry Mancini.
While Mr. Mancini went on to fame and fortune, Mr. Lascheid played in bands in local clubs such as Downtown's Midway Lounge. That's where he did a double-take over an Arkansan named Linda Dougan. They married in 1948.
In 1956, the couple opened a record store, Vince Lasheid Music, in the Great Southern Shopping Center that they ran for nine years. He supplemented his income by giving piano lessons at home and playing Masses at St. Bernard Church in Mt. Lebanon. He always kept playing his piano.
"You never get rich doing it," he told the Post-Gazette in 1996, as he released his CD, "Double Play." His friend Bill Lawrence mused in the liner notes that attendance figures at the games at which Mr. Lascheid played then added up to more than 35 million and the possibility that he "has entertained more people than any other single artist in entertainment history."
"I never went national or anything," Mr. Lascheid said with characteristic humility. "But it was fun."
His happy playfulness infused his music, whether he was pumping up the home team (he greeted Penguin Paul Coffey with the Maxwell House jingle) or taunting a visiting player (he played "I've Got You Under My Skin" for Ranger Pat Hickey).
As Mr. Lascheid once told Pittsburgh magazine, "Some are pretty corny and some are real groaners."
But the Penguins' Mr. McMillan said, "Some of his stuff, you really had to think. It was clever."
Pirates shortstop Jack Wilson said that "we always tried to figure out what he was playing for each batter. ... He will be missed."
But his music will play on. Eric Wolff, the Pirates' director of in-game entertainment, thought back in 1995 that he'd replace the team organist, as many teams have, with recorded music. That was before he realized what a star Mr. Lascheid was to "young people, middle-aged people, older people and everything in-between."
At PirateFest each year, he said, "People would constantly ask for autographs and pictures" of the organist, who was honored with the Pride of the Pirates award in 2005 as he wound down his live playing.
Mr. Wolff said fans will continue to hear Mr. Lascheid's organ playing at Pirate games. Last season, when Mr. Lascheid made it to the ballpark only rarely, the team recorded his work during the day to play at night games. Those digital samplings, including the familiar three-note "Let's Go Bucs" (same as "Let's Go Pens") will be played "this year and for years to come," Mr. Wolff said. "Vince will still be our organist, and I think the fans will appreciate that. ... It's the best tribute we can give to him."