Millard Fuller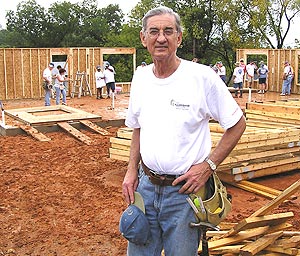 posted 2009-02-04 17:02:46 by grendel





ATLANTA (AP) — Millard Fuller, the millionaire entrepreneur who gave it all away to help found the Christian house-building charity Habitat for Humanity, has died. He was 74.
Fuller died Tuesday after being taken to Sumter Regional Hospital near his south Georgia home in Americus, his wife Linda said. An autopsy was planned.
Fuller ran Habitat for Humanity with his wife for nearly three decades, but lost control of the charity in 2005 in a conflict with its board. He and his wife then started The Fuller Center for Housing to raise money for Habitat affiliates.
While studying law at the University of Alabama, Fuller formed a direct-marketing company selling cookbooks and candy to high school chapters of the Future Homemakers of America. The business made Fuller a millionaire before he was 30.
When Fuller's capitalist drive threatened to kill his marriage, Fuller and his wife, who wed in college, sold everything to devote themselves to their lifelong Christian values.
The couple's search for a mission led them to Koinonia, an interracial farming collective outside Americus. With Koinonia founder Clarence Jordan, the Fullers developed the concept of building no-interest housing for the poor — an idea that grew into Habitat for Humanity.