Songwriter Martyn dies, aged 60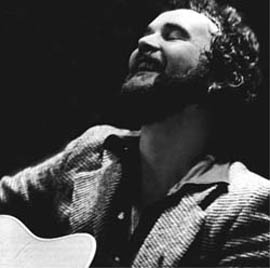 posted 2009-01-29 23:46:46 by doug





Singer-songwriter John Martyn has died at the age of 60.
The folk, blues and funk artist was widely regarded as one of the most soulful and innovative singer-songwriters of his generation.
He was born in Surrey but grew up in Glasgow. He was appointed an OBE in the New Year Honours.
A statement on his website on Thursday said: "With heavy heart and an unbearable sense of loss we must announce that John died this morning."
The musican, who passed away in hospital in Ireland, has been cited as an influence by artists as varied as U2, Portishead and Eric Clapton.
He was unique and we'll never see the likes of him again. I loved him dearly and will miss him very much
Phil Collins
He was regarded as a maverick within the music industry and battled with drugs and alcohol throughout his life.
He collaborated with many musicians throughout his life, including Phil Collins, and his song May You Never was covered by many artists - including Clapton.
Phil Collins paid tribute to his "infuriating" friend.
He said: "John's passing is terribly, terribly sad. I had worked with and known him since the late 1970s and he was a great friend.
"He was uncompromising, which made him infuriating to some people, but he was unique and we'll never see the likes of him again.
"I loved him dearly and will miss him very much."
Born Ian David McGeachy in Surrey in 1948, he spent his much of his formative years at his father's home in Glasgow following the divorce of his parents.
He moved to London in his late teens and became a fixture at Les Cousins - the Soho club at the centre of the city's folk scene, which also spawned the likes of Ralph McTell, Bert Jansch and Al Stewart.
He was the first white act to be signed to Chris Blackwell's Island Records, and recorded his debut album, London Conversation, for £158 in 1968.
Many of his albums - especially Solid Air, released in 1973 - are regarded as classics.
In 2003, he had to have his right leg amputated below the knee after a cyst burst, and in his latter years he performed from a wheelchair.
He regularly performed in Scotland - a place he considered home - and appeared in concert at last year's Celtic Connections festival.