Susanna Foster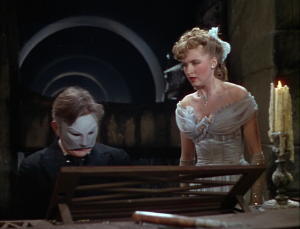 posted 2009-01-21 09:27:27 by grendel





LOS ANGELES (AP) — Susanna Foster, who starred opposite Claude Rains in the 1943 version of "Phantom of the Opera," has died. She was 84.
Foster died Saturday at the Lillian Booth Actors Home in Englewood, N.J., publicist Dale Olson said.
Foster made only a dozen movies but she was popular in the early 1940s. A child prodigy, she got a contract with MGM at age 12 on the strength of her singing, then moved to Paramount, where at 14 she made her movie debut in 1939's "The Great Victor Herbert."
She moved to Universal, and at age 19, she played the leading lady in "Phantom." She abruptly quit the film business in 1945 and married baritone Wilbur Evans a few years later. The couple toured and performed in musicals and operettas.
They divorced in 1956 and Foster took a series of jobs, including receptionist, as she raised their sons, Phillip and Michael.
She struggled for decades with alcoholism and mental illness, according to surviving son Michael Evans' comments on a Web site about his family. At one point in the 1980s, she lived in her car. She only made one more movie, "Detour," in 1992.