Obituary: Bob May / 'Lost in Space' robot actor Died Jan. 18, 2009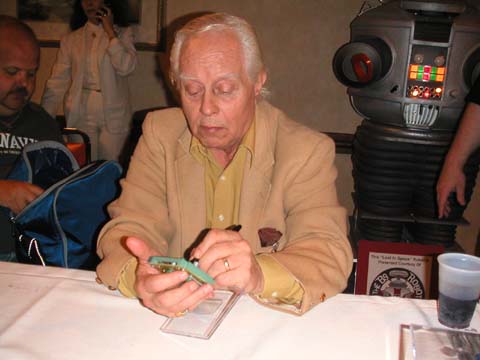 posted 2009-01-20 18:18:13 by MIKE





Bob May, who donned The Robot's suit in the hit 1960s television show "Lost in Space," has died. He was 69.
Mr. May died Sunday of congestive heart failure at a hospital in Lancaster, Calif., about 70 miles north of Los Angeles. .
He was a veteran actor and stuntman who had appeared in movies, TV shows and on the vaudeville stage when he was tapped by "Lost in Space" creator Irwin Allen to play the Robinson family's loyal metal sidekick in the series that debuted in 1965.
"He always said he got the job because he fit in the robot suit," said June Lockhart, who played Maureen Robinson.
Although the robot's voice was done by announcer Dick Tufeld, Mr. May was sought after at memorabilia shows.
Ms. Lockhart said the robot suit wasn't easy to get in and out of, so Mr. May kept it on during breaks.
"He was a smoker. From time to time (when he was on a break), we'd see smoke coming out of the robot. That always amused us."
Copyright 2009 Associated Press. All rights reserved. This material may not be published, broadcast, rewritten, or redistributed.