'Chiller Theater' actor reached out to help others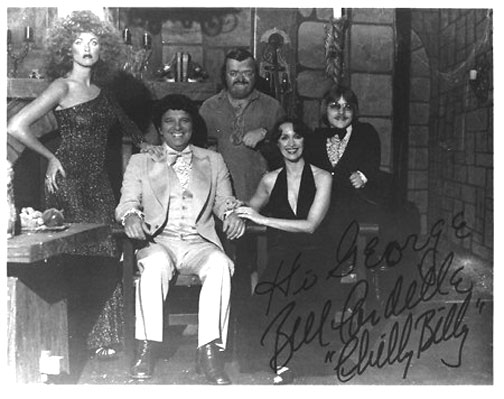 posted 2009-01-10 23:12:40 by MIKE





Stephen "Steve" Luncinski, known on "Chiller Theater" as the diminutive, impish Stefan the Castle Prankster, "had the heart of a giant, a quick wit and a great mind," said his good friend, Bill Cardille.
Mr. Luncinski, who with his family owned and operated Pinnacle Auto Service on Brownsville Road in Carrick, died suddenly in his Baldwin Borough home late Thursday, Jan. 8, 2009. He was 52.
"Steve had a personality everybody loved," said Cardille. "He was quick with a comeback. I never knew what he was going to do."
When Cardille, still known as Chilly Billy from his days as host of Channel 11's late-night, long-running show, was given the opportunity to create his own television Chiller Family in 1976, he immediately thought of the young man he met in Las Vegas.
"Lou (his wife, Louise) and I were standing in line for a midnight show. Somebody tugged at my jacket. I looked around and didn't see anybody. Then I looked down. He said, 'I'm Steve Luncinski. I'm from Pittsburgh. I watch you and Chiller Theater and wanted to say hello.'
"We talked for a few minutes and I said, 'Give me a call some time.' About 3:30 in the morning, the phone rings in our room. I said hello and he said, 'Hi, this is Steve.' I said, 'Steve who?' He said, 'I met you tonight,'" Cardille said with a laugh. "That's where I got the idea of the Castle Prankster."
Mr. Luncinski became Cardille's alter ego on the show, even sporting tuxedos together on television and personal appearances.
They became close friends off-air as well, often appearing together for charitable causes including the Muscular Dystrophy Association.
"Steve was a man's man and did a lot of good things to help others who were less fortunate," Cardille said.
Mr. Luncinski was active in politics, making unsuccessful runs for the state Senate and Allegheny County Council.
"He liked the limelight and played it very well, but he wasn't a show-off. He just liked people. He liked everybody. I never heard him say a bad word about anybody. He was about 20 steps ahead of everybody in the way of life," Cardille said.
Mr. Luncinski's survivors include his two sons; his father; and a brother. Funeral arrangements are incomplete.
Michael Hasch can be reached at mhasch@tribweb.com or 412-320-7820.
Back to headlines