Vincent Ford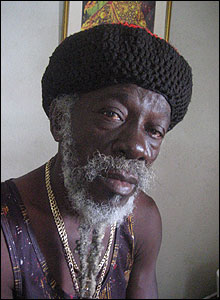 posted 2009-01-06 12:47:28 by grendel





KINGSTON, Jamaica (AP) — Vincent Ford, a songwriter credited with composing the Bob Marley reggae classic "No Woman, No Cry," died Sunday. He was 68.
Ford died Sunday of complications from diabetes at a hospital in Jamaica, said Paul Kelly, a spokesman for the Kingston-based Bob Marley Foundation.
The song, which appeared on Marley's 1974 "Natty Dread" album, was inspired by the Kingston ghetto of Trench Town where Marley and Ford lived in the 1960s.
Ford is credited with the tune. However, some critics contend that Marley wrote it himself but gave Ford the credit to help his friend support himself with the royalties.
Ford, who ran a soup kitchen and lost both his legs to diabetes, is also credited with three songs on Marley's 1976 album "Rastaman Vibration."
Marley died of cancer in Miami in 1981 at age 36 and remains one of Jamaica's most beloved national heroes.